Michigan Football News & Views: Many Positives Through Three Games
Regardless of the analysis from Big Ten Network's Gerry DiNardo, there's a lot to like about this Michigan football team through three games. The Wolverines are running the ball extremely well, there's a togetherness with this group and the culture — perhaps even 'the old Jim Harbaugh' — are back intact in Ann Arbor.
We tackle a number of those subjects and Harbaugh's Monday comments in today's News & Views column ...
NEWS: Michigan is 3-0 through three games, among the top 10 defenses in the nation in points allowed (11.3 points per game, tied for eighth) and looks much improved in all areas over last year's team.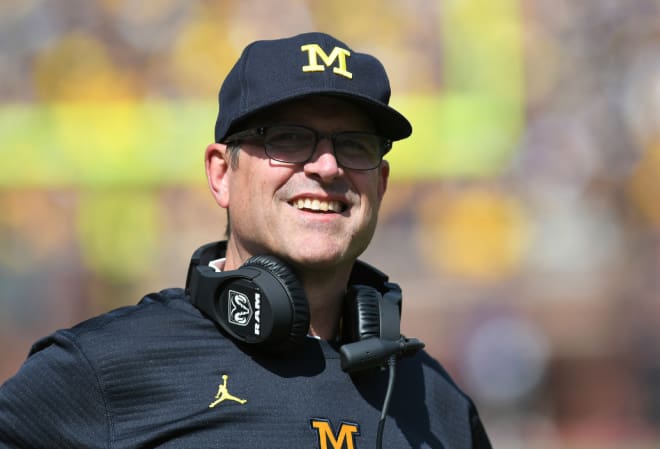 JIM HARBAUGH: "The biggest [difference] is just how hard they're playing. They're having fun doing it. Good things happen when you play hard. Energy ... it just finds the ball, whether you're on defense or whether you're on offense. Energy ... the ball finds you, [too]. Both."
VIEWS: It's easier to play with great energy when you're winning ... and with a crowd of 108,000 (or so) behind you. Michigan seemed to have the swagger last year, too, after winning on the road at Minnesota in the opener.
But that was a mirage, and whether it was playing in an empty Big House, whatever, game two on was a disaster, and the team — and some of its supposed leaders — didn't respond well.
We get the sense that a setback or two isn't going to doom this team. They genuinely seem to like each other, and there's a much better vibe on and off the field (some of the locker room stories from last year might curl a Michigan fan's toes).

Even so, we still don't know this team's ceiling. How will the defense hold up against more balanced, talented offenses ... especially the interior line against big offensive lines? Will quarterback Cade McNamara be able to throw the ball when good teams stack to stop the run, and will the offensive line be able to move the ball on the ground against bigger defensive lines?
On the latter two ...
NEWS: Michigan leads the nation in rushing offense (350.3 yards per game), thanks in large part to the line play.
HARBAUGH: "[Offensive line coach Sherrone Moore] has done a heck of a job. That's not historically known as a fun position to play, but they look like they're having a lot of fun. I go by their meetings and it's engaged, it's energetic, it's loud ... a lot of guys are laughing. They're enjoying it. Same on the practice field, day after day.
"It's a real cohesive unit there that's developed, and they enjoy each other's company. They've built a lot of confidence in themselves and each other. I think Sherrone has had a tremendous amount to do with that from where I stand. It's been very, very impressive."
VIEWS: This is a fact, no matter the competition. How many times in past years have we seen Michigan lines with great individual talent struggle to run the ball against mediocre teams, let alone the better teams on the schedule?
These guys are playing in concert, and it's got Harbaugh's fingerprints all over it. Analysts across the country are saying it resembles his Stanford and San Francisco teams, and we'd agree ... lots of counters, combo blocks, pulling, etc.
But credit the backs, too, led by first-year assistant Mike Hart. Their patience in waiting for holes to open has been impressive — and then Hassan Haskins' strength and Blake Corum's feet and acceleration have helped create nice runs even when there wasn't room.
We still don't know how it will look when there are 325-pound All-Big Ten defensive linemen running downhill to plug gaps, though, and how U-M will respond if it can't move the ball on the ground (remember some of the 1990s Wisconsin teams U-M used to handle, for example? Ron Dayne, etc., didn't have other ways to win when Michigan shut them down).
Which brings us to ...
NEWS: Quarterback Cade McNamara has been solid through three games, but we still don't know how good the passing game is.
HARBAUGH: "[Cade's] been good in all areas, but he's been consistently good since he's played in games. The ability to drive the team for points ... that's getting really impressive. I don't know what that percentage is, but it's got to be pretty high.
"Overall confidence, ability, time on task, reps — just like anybody, when you play in a game and realize you can do this, it's not as hard as it seems. You get better at football by playing football."
VIEWS: It was last year against Rutgers that he seized his moment — "capitalized on it," Harbaugh said.
"Probably one of the biggest statements you could make when you come into a game like that ... that's your opportunity," Harbaugh said. "Seventeen points down ... rally the team to a comeback victory. That does a lot."
Not just for him, but also for the team. He's a leader, and he's proven it with his work ethic.
But with junior receiver Ronnie Bell out for the year (knee), it appears the offense's ceiling is lower. There are good coaches in the Big Ten East (starting Saturday) who will scheme to take away the run, and that's when we'll know how good this offense really is ... and McNamara.
We like what transfer wideout Daylen Baldwin showed when healthy, and there are some capable receivers. We just need to see them 'schemed' open to believe this offense can put up big numbers against good defenses, and that's something we haven't witnessed yet.

NEWS: Michigan's special teams are clicking in all phases with receiver A.J. Henning now returning punts.
HARBAUGH: "I think A.J. did a tremendous job returning the ball. The returners ... I think they're doing a great job. They're going all out, playing so hard. They're good, and having said that, I think you hear this from our players — at least I do — there's nobody looking to take a deep, long bow right now.
"We just want to get back and get ready for Rutgers, a team we really respect, and be prepared and work and practice and get ready for the ball game on Saturday."
VIEWS: He said he wouldn't use the word "complete" ... nor should he. Again, these were three of the easier games on the schedule (Washington isn't what many thought they were coming into the fall, though we think they'll be solid the rest of the year). But the coverage teams, kicker Jake Moody, punter Brad Robbins ... it's all been outstanding, and being great across the board in that third phase of the game will be good for a win or two against tougher teams.
There's no drop-off with Corum deep on kicks after losing Giles Jackson to transfer in the offseason — in fact, Corum is better — and if Henning continues to protect the ball, he's an absolute weapon in punt return with his speed.
There might be a few more high-end playmakers on this team than we thought, and that bodes well.