Michigan Football Recruiting: French DT Jeffrey M'ba Reflects On U-M Offer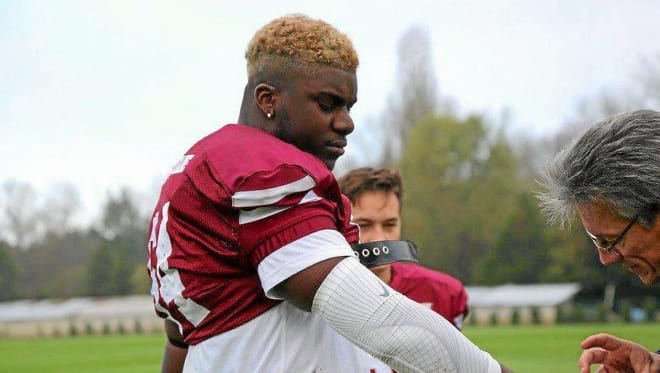 French 2019 defensive tackle Jeffrey M'ba is an unknown phenom due to coming over to the United States just six days ago to attend Saint Frances High School in Baltimore, Maryland.
However, he already has offers to play for Alabama, Maryland, Michigan State, Michigan and Ohio State.
"I was very surprised because I didn't realize it would have happened so fast," M'ba said. "I'm very honored because I'm the first French football player that is having something like this happen.
"I feel like I am opening new doors to French football players. I'm excited about it and the offers are honoring the players in France because they don't get covered. Hopefully, others can make it."
Coming to the United. States on April 9, the 6-foot-5, 286-pound defensive lineman is already planning to visit schools.
M'ba visited Maryland on April 14 and plans to check out Virginia Tech on April 16, Penn State on April 17 and Alabama or Michigan on April 18. M'ba earned an offer from Michigan on April 10.
"I saw Michigan on television and I dreamt about that team," M'ba said. "I couldn't have imagined that a team like would offer. It's like a dream come true."
The 18-year-old played in France for Pole France de Football Americain for coach Ben Dacosta and coach Yvan. He is thankful for the opportunity his old team gave him to make the move across the Atlantic Ocean to the United States.
"The condition in the United States and Europe are very different," M'ba said. "The training facilities and coaches you have for skill development is different. I feel like training in the U.S. facilities will make me an animal."
When M'ba was growing up in France, playing in the National Football League was just a dream. Now, it is a reality for the rising prospect.
"I feel like when I was in Europe, playing in the NFL was just a dream," M'ba said. "Being here, the dream is turning into a goal. It's just such a different environment."