Michigan Football Recruiting: Greyshirt Is Now On Scholarship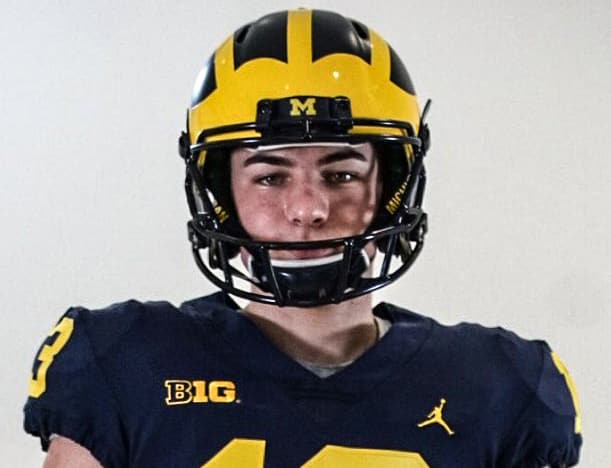 Michigan incoming freshman Jake Moody of Northville, Mich. though he might have to wait until winter to join the program, but he's now on full scholarship. He will arrive in August.

"That happened a few weeks ago," Moody said. "They had said some things needed to happen, guys would have to transfer or leave, and all those things happened.
"They've talked to me about competing for all three roles, kickoffs, field goals and punter. They want me to maybe kickoff this year, be a backup for the field goals and be a reliable backup for punter, too."
Moody was Kornblue Kicking's No. 1 kicker in the country.
"I actually had one of coaches who was with the Lioins the last four years … I'd seen him the last two summers at a coaches camp," former Michigan kicker Brandon Kornblue, who now runs one of the top kicking camps in the country, said. "I said him and he said, 'whatever happened to the kicker at Northville? He was just unbelievable.' When you catch the eyes of an NFL coach, you know you're doing something right."
Moody kicked a 58- and 57-yard field goal last year, good for second and third longest in Michigan high school history.
From Kornbluekicking.com:
Jake was ranked as the Fab 50's top nationally ranked kicker for the class of 2018. Without question, he is an FBS scholarship kicker. He has attended our camps, training sessions, and private lessons throughout his high school career. We have seen him continue to develop and improve, all while demonstrating a serious work ethic and humble, but very confident attitude. Jake also takes his academics seriously, as he is part of the National Honor Society.
During his senior season, he drilled FG's from 58, 57, and 55 yards in games (off a 1/2 inch block). The 58 yard FG is the 2nd longest FG in Michigan state history. He holds the state record for most made FG's in a high school career.
His FG's and kickoffs continue to dominate every time he attends our camps. At our October 2017 Michigan Fab 50 Camp, his kickoffs consistently charted 75+ yards with 4.0+ hangtime. He won the FG competition with a 55 yarder.
Kicking is his strength but Jake is also a solid punter. His best punt at the most recent camp charted 4.58/48 yards.
"And he's not capped out," Kornblue told us. "He's just shown a steady improvement. Quinn Nordin was No. 1 early on, as a junior. Jake rose through his senior year to kind of earn that over time, working and working, improving, and he's ahead of where Quinn was at this point, though Quinn has skyscraper potential."
So does Moody, however, which will add to the competition this fall.