Michigan Inching Towards Top 5 Recruiting Class
Michigan has moved up the rankings.
The Wolverines leaped Tennessee and now sit at No. 6 in the 2021 Rivals team recruiting rankings after landing a huge commitment from Rivals100 Jacksonville (Fla.) Sandalwood linebacker Branden Jennings on Friday.
Jennings committed to Michigan over offers from Clemson, Florida State, Miami, Nebraska, Notre Dame, Ohio State, Penn State, USC and a slew of other major programs.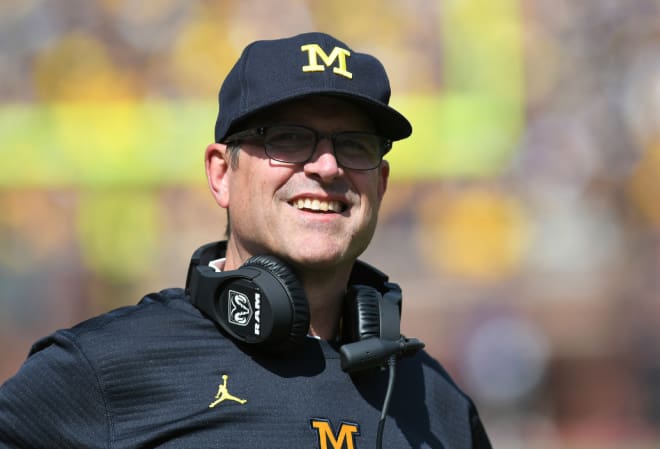 Jennings was previously committed to Florida State, where his father, Bradley, won a national championship. However, FSU is in a bit of a state of disarray, and Jennings felt it was the right move to reopen his recruitment.
It didn't take long for Michigan to make a power move and close with Jennings, who visited Ann Arbor for the game against Army last fall.
Michigan now has 21 commitments in its 2021 recruiting class.
Jennings joins Rivals100 linebacker Junior Colson, Rivals100 quarterback JJ McCarthy, Rivals100 offensive lineman Giovanni El-Hadi, Rivals100 tight end Louis Hansen, Rivals250 offensive lineman Raheem Anderson, Rivals250 offensive lineman Greg Crippen, Rivals250 defensive end Quintin Somerville, Rivals250 wide receiver Cristian Dixon, four-star defensive end Kechaun Bennett, three-star running back Tavierre Dunlap, All-American specialist Tommy Doman, three-star cornerback Ja'Den McBurrows, three-star wide receiver Andrel Anthony, Rivals100 wide receiver Xavier Worthy, three-star safety Rod Moore, four-star offensive tackle Tristan Bounds, three-star linebackers Tyler McLaurin and Jaydon Hood and rising defensive linemen TJ Guy and Dominick Giudice.
Michigan now has a total score of 2,374. The commitment of Jennings awarded Michigan 163 points.
Here is a look at The Big Ten rankings:
1. Ohio State
2. Michigan
3. Wisconsin
4. Nebraska
5. Iowa
6. Maryland
7. Rutgers
8. Minnesota
9. Penn State
10. Michigan State
11. Northwestern
12 .Indiana
13. Illinois
14. Purdue
Michigan is fewer than 100 points behind No. 5 Florida in the overall rankings, which means a Top 5 class is within striking distance.
At 6-foot-3, 225 pounds, Jennings is ranked as the No.4 inside linebacker and No. 52 overall prospect in the country, per Rivals.com.
Jennings is the fourth linebacker commit in Michigan's 2021 recruiting class.