Michigan kicking camp a great success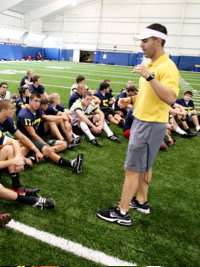 Michigan's kicking camp was in good hands (feet) this year, run by former Wolverine kicker Brandon Kornblue. Kornblue's kicking school continues to pick up steam in Florida -- over the weekend, he put class in session in Ann Arbor.
It had been Kornblue's goal to handle the camp since he started his business a few years back, and he made the most of his opportunity. Former kickers Jay Feely, Ross Ryan and Phil Brabbs were among those who helped, giving it an all-in-the-Michigan-family feel.
"Overall, I think it was fantastic for the first year doing it," said Kornblue. "The staff, all the guys that came back, they loved coming back and helping out. All of them said it was the most talent they had seen at one time in terms of high school level. I've been to numerous combines and seen similar, but to have this many guys at a university camp ... it's the most talent I've seen at a university camp."
Kornblue expects his business, already thriving and growing, to expand even further with the exposure gained from the U-M camp. Michigan coaches have already expressed their enthusiasm about having him back next year.
If he does come back as expected, said Kornblue, it might be earlier in the summer.
"One of the things that hurt us was because it was the last kicking camp for most of the kids there - they had already been to like eight or nine, so it was kind of their last stop - the week before, three kids had committed to other schools," Kornblue said. "Because of that, they ended up not coming to the camp. There may have been even more.
"In the future we'll make the camp earlier in June so we can avoid that issue."
This is the second year Kornblue has put significant time and effort into his kicking camp, but it continues to grow at a rapid pace.
"We're very happy with how it turned out and looking forward to coming back," he said. "We had a kid from Oregon, some kids from California, all over the place. They came from everywhere."
Here's a look at the top kickers from this year's Michigan camp taking distance and accuracy into account. None received a U-M offer, though they'll continue to be watched closely.
KICKERS
Name, Grade in '09, Ranking (out of five), High School, State
1 Gibbons, Brendan Sr. 4.5 Cardinal Newman HS FL
2 Freese, Nathan Sr. 4.5 Strongsville HS OH
3 McManus, Brandon Sr. 4.5 North Penn HS PA
4 Roberts, Skyler Sr. 4.5 Findlay HS OH
5 Griffin, Jack Sr. 4.5 St. John Neumann FL
6 Abelkop, Lee Sr. 4.5 La Jolla HS CA
7 Schaible, Eric Jr. 4.5 Findlay HS OH
8 Grossnickle, Zach Sr. 4.5 East HS (Denver) CO
9 Ewald, Mitch Sr. 4.5 Waubonsie Valley HS IL
10 Budzien, Jeff Sr. 4.5 Arrowhead HS WI
11 Jarrett, Drew Sr. 4.5 Frank W. Cox (Virginia Beach) VA
12 Brindza, Kyle Soph. 4.5 Plymouth HS MI
13 Duale, Eric Sr. 4 Highland HS (Medina) OH
14 Simpkins, Clay Jr. 4 Wauseon HS OH
15 Immekus, Nick Jr. 4 Wheaton Warrenville HS IL
16 Steger, Evan Sr. 4 Noblesville HS IN
17 Voss, Mitchell Sr. 4 Wheeler HS IN
* NOTE: Top 5 Kickers showed highest level of FG consistency AND college level kickoff ability
PUNTERS
1 Dombrowski, Jacob Sr. 4.5 Gaylord HS MI
2 Schaible, Eric Jr. 4.5 Findlay HS OH
3 Reed, Christian Sr. 4.5 Station Camp TN
4 Goulding, Conor Jr. 4.5 Gulf Coast HS (Naples) FL
5 Grossnickle, Zach Sr. 4.5 East HS (Denver) CO
6 Budzien, Jeff Sr. 4.5 Arrowhead HS WI
FG Competition Champion - 6/29/2008
Patrick Wright Sr. 4 Providence Catholic HS IL
FG Competition Champion - 6/30/2008
Jeremy Ross Jr. 3.5 Pioneer HS (Ann Arbor) MI
RANKING GUIDE
5 Stars - D1A prospect who could be an immediate starter
4.5 Stars - D1A prospect who will probably redshirt
4 Stars - smaller D1A or D1AA prospect
3.5 Stars - D1AA / D2 prospect
3 Stars - D2 / D3 prospect
2.5 Stars - D3 / NAIA prospect