Michigan moves up in Coaches Poll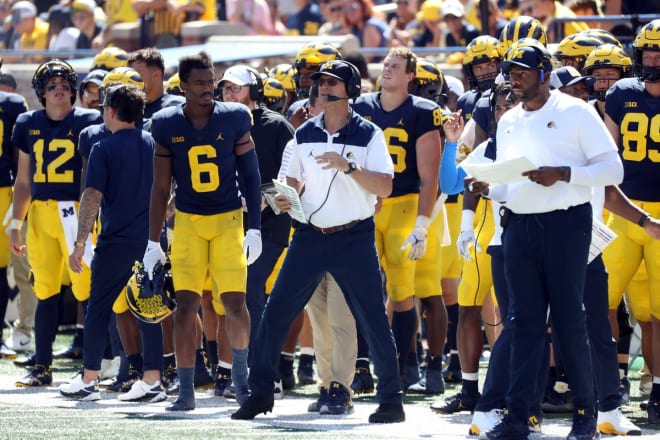 The USA Today Coaches Poll has been released and Michigan is up one spot, now ranked #5 in the country.
Alabama remains the #1 ranked team in the country with 57 first-place votes.
Georgia and Ohio State swapped places, with the Bulldogs now #2 and getting 6 first-place votes. Ohio State drops to #3 but still has 2 first-place votes.
In front of Michigan at #4 is Clemson.
The next highest ranked Big Ten team is the Michigan State Spartans at #11, up three spots.
The first Big Ten West team is Wisconsin in at #18.
Penn State's close win over Purdue was not enough to get them into the top 25, as they are 27th as others receiving votes. Iowa, Minnesota, and Northwestern also received votes.
Discuss this article with our community on our premium message boards
Not a subscriber to Maize & Blue Review? Sign up today to gain access to all the latest Michigan intel M&BR has to offer
Follow our staff on Twitter: @JoshHenschke, @BrandonJustice_, @RivalsLibby, @TrevorMcCue, @DennisFithian, @BrockHeilig, @JimScarcelli, @DavisMoseley, @lucasreimink, @ritchietmr
Subscribe to our podcasts: Apple Podcasts, Google Podcasts and Spotify
Check out Maize & Blue Review's video content on YouTube
Follow Maize & Blue Review on social media: Facebook, Twitter, TikTok, and Instagram