Michigan's Isaiah Livers Underwent Successful Surgery On Right Foot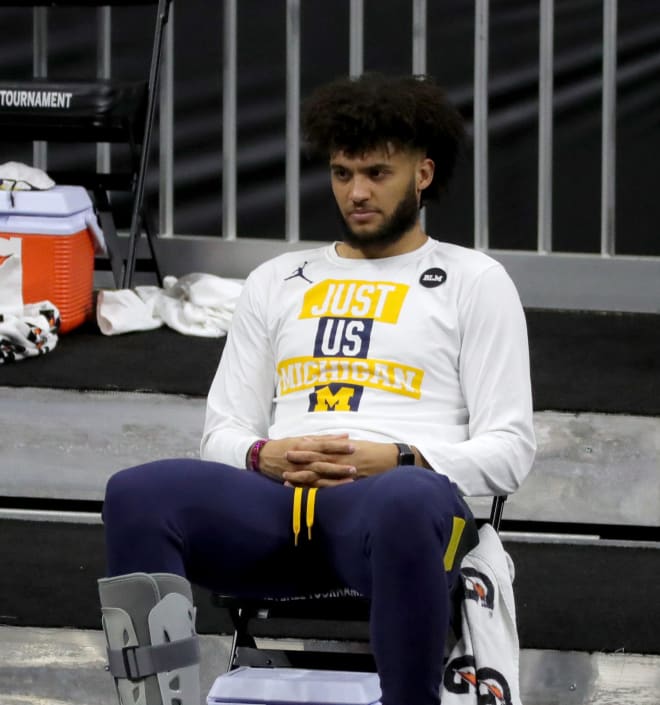 Following diagnostic imaging after the Wolverines' Big Ten Tournament quarterfinal game against Maryland (March 13), a right foot stress injury was diagnosed. Livers has worn a protective boot and was maintaining rehab during the remainder of Michigan's Big Ten Tournament and NCAA Tournament runs. After consultation with family and medical professionals, Livers elected to have surgery.
A second-team All-Big Ten selection, Livers missed the team's final five games, which included a loss to Ohio State in the Big Ten Tournament semifinals, three NCAA Tournament wins – over Texas Southern, LSU and Florida State — and a loss to UCLA in the Elite Eight.

The Kalamazoo, Mich., native elected to come back for his senior season after declaring for the 2020 NBA Draft last offseason. He was the Wolverines' second leading scorer, averaging 13.1 points per game, while also adding six rebounds and two assists per contest. He shot 45.7 percent overall and 43.1 percent from three-point range on the year.
Livers played in 118 career games and was 13 points away from reaching 1,000 in his career (987), averaging 8.3 points per outing. He made 164 career three-pointers and compiled 453 rebounds (3.8 per game). During his four-year career, the Wolverines had a 105-32 record, and he helped U-M win the program's second straight Big Ten Tournament title in 2018 and the regular-season title in 2021. U-M advanced to three straight NCAA Sweet 16s, two Elite Eights (2018, 2021) and the 2018 Final Four and national title game.
Livers has the option to return for one more season at Michigan, since the NCAA deemed the 2020-21 campaign a 'free year' in terms of eligibility. The overwhelmingly most likely option, however, is that Livers declares for the 2021 NBA Draft, which will be held in July.