Michigan Wolverines Basketball: Caleb Houstan's 16 Leads Montverde To Title
Michigan Wolverines basketball coach Juwan Howard has the No. 1 recruiting class coming in for 2021, and now he's adding a prep national champion.
Caleb Houstan, Rivals.com's No. 8 senior nationally, scored a quiet 16 points to lead Montverde to the Geico National Title Saturday. He started slowly but made four of his nine triples including two big ones in the fourth quarter of a 62-52 victory over Sunrise Academy.
Montverde took an 11-point lead into the fourth quarter, but Sunrise made a run to cut it to 53-47 at the four-minute mark. Houstan hit a crucial triple from the top to stop the run, his third in eight attempts after he started 1-for-4.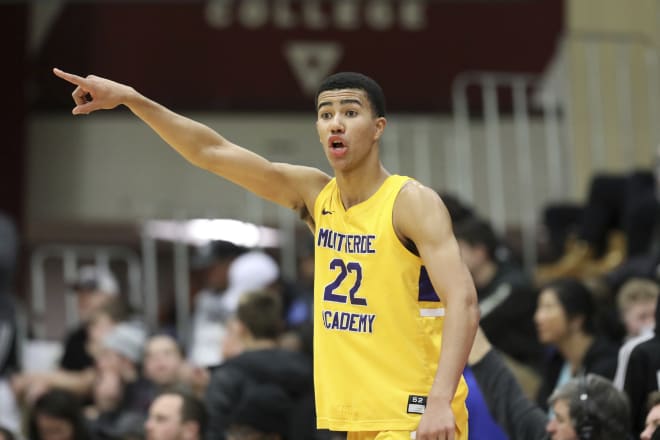 He'd been short on three of his attempts to that point, and even the one he made hit the front rim before rolling in on a friendly bounce.
"The elevation isn't there in his legs. He's been a little off in this game," analyst Paul Biancardi said in the second quarter.
But he picked it up. He finished 4-for-9 from long range and 6-for-12 overall (0-for-1 from the free throw line) with 16 points, his last three-pointer the dagger with a minute to go that pushed the lead to 12.
Houstan had a short jumper, crashed the glass for a putback and had a Franz Wagner-esque drive and finish, left to right down the middle of the lane and high at the rim with his incredible length after a running start, on the one possession on which he attacked.
"He can beat you off the bounce if he has to, but his calling card is the jump shot," Biancardi said.
We expect he'll be put in more positions with the ball in his hands at U-M.
But most of what he does looks effortless. He's got great body control, and his length makes it tough for players to finish over him. He plays the angles well even when a guy gets a step on him, and his long arms help make everything tough.
Though he could be more aggressive, he plays on a loaded team. Everything he does looks effortless, and his stroke is pure. He hit two long triples with hands in his face.
Some have compared him to the NBA's Marcus Morris (Kansas), others to former Duke star Shane Battier. Whatever the comparison, he'll need to get stronger but has a bright future at Michigan.
"I feel like the culture they're building there is something that I really want to be a part of," he told the News-Press, noting he couldn't wait to work with head coach Juwan Howard. "It's only a couple months away, so I can't wait to get there and start working."
Houstan led Montverde with 20 points in a quarterfinal, 85-64 win over Oak Hill (Va.) Academy Thursday but struggled in a semifinal victory over AZ Compass. He was one-for-7 with only three points until he made his presence felt with the game winning tip in with 17 seconds remaining.
As a result, his team advanced to the finals and won a national title.
"It's an amazing feeling to win this," he said. "It's hard to put into words what I'm feeling, but it's just overwhelming."