DeAndre Haynes — Zavier Simpson Is 'Turning Our Poodles Into Bulldogs'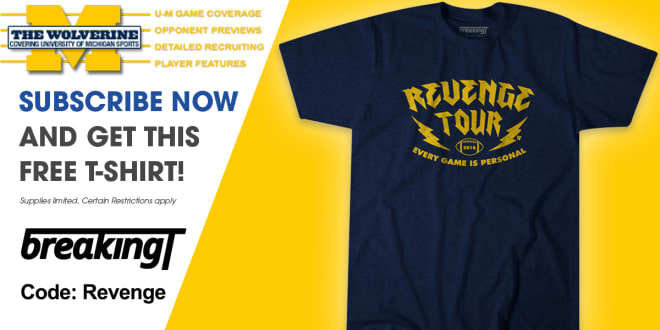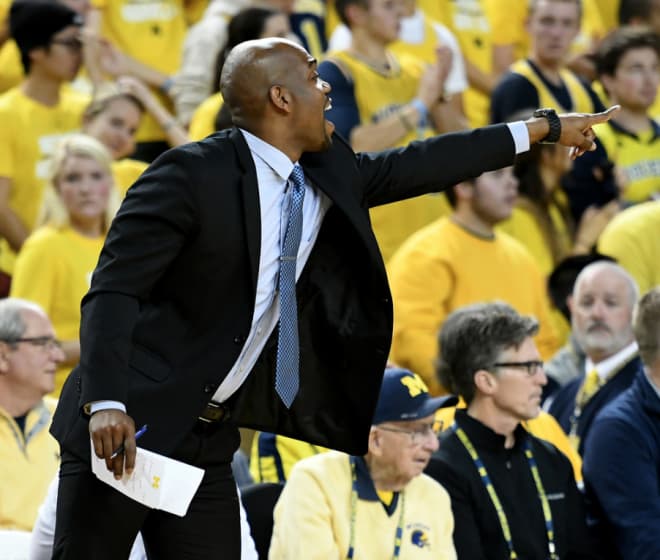 After assistants Billy Donlon and Jeff Meyer left Michigan following the 2016-17 season, the Wolverine staff underwent a complete overhaul.
Head coach John Beilein brought in a pair of relative unknowns in Illinois State assistants DeAndre Haynes and Luke Yaklich, and the results wound up being phenomenal.
Yaklich took what had annually been a subpar defensive U-M team and developed it into one of the best units in the country, while Haynes helped transform Zavier Simpson into one of the nastiest (in a good way) point guards in the Big Ten.
His work with Simpson is what was most recognized, and while he explained how much he loved working with him, also admitted there were some bumps along the way.
"He's always so locked in — which is great — but we wanted him to be more relaxed," Haynes recalled. "He's always so riled up, and we've tried teaching him breathing techniques when he's at the free throw line. We're not trying to change his game, but improve it and he's been responsive.
"Zavier has never been difficult to coach, and has been one of the best players I've ever been around. He's a great teammate and a great person, and I love what he brings to the table.
"He and Beilein would clash heads when he first got here, but now he's manned up to everything Beilein is trying to teach him. It's a player-led team because of him.
"Zavier is a little pit bull but has a big heart, and everyone listens to him. The team is starting to take on his personality and it's showing in practice.
"He's been having everyone's number defensively in practice, but yesterday [freshman center] Colin [Castleton] and [freshman point guard] Dave [DeJulius] were getting in his face, and it made practice so much better.
"Zavier is starting to turn the poodles into bulldogs. I feel sorry for anyone who has to go up against him, because Dave went a month without scoring on him."
Simpson and redshirt junior guard Charles Matthews have emerged as the team's top two leaders after the club lost Moe Wagner, Duncan Robinson and Muhammad-Ali Abdur-Rahkman off of last year's squad.
Even though Matthews will be entering his third year in the program, Haynes said there is still plenty the veteran needs to improve on.
"I've been working with him on his ball handling, and it's increased tremendously," the assistant exclaimed. "He's trying to get his shot to be more consistent, and I expect him to have a breakout year for us.
"[Sophomore guard] Jordan Poole is another guy who's trying to take a huge step forward. Muhammad was someone who you knew would do everything right whenever he stepped on the floor last year.
"Jordan is trying to follow in those footsteps — he told us he wants to make more plays and not turn the ball over — we know he can score, but he's now trying to find other guys as well."
A big key to this season's team involves players taking a step forward — just as it often does — and someone who who fits that bill is sophomore guard Eli Brooks.
He started 12 games in the early going last year, but saw his role diminish as the season went on.
"It's all about his confidence," Haynes explained. "He's pulling guys like [freshman forward] Iggy [Brazdeikis] and Dave aside to work with them whenever they need it.
"Eli is one of our best defenders right now. I called him the other night to tell him how proud we were of him, because he's been molding our freshmen class."
Notes
• Beilein admitted at Big Ten Media Days in Chicago earlier this month he had still not watched last season's National Title game, but some of the assistants have chosen to take a different approach.
"You go back to the game and wonder what you could have changed," Haynes lamented. "I've watched it a lot to see what we could've done differently. It was a great memory for me — we're playing them again, so we want to make sure we're ready.
"We had a great first half getting the ball down low to Moe, but we gave [Villanova guard] Donte [DiVincenzo] too much space defensively. Coach Yaklich has preached about having a hand in a guy's face, and that's what we're focusing on this year."
• After Beilein had his heart procedure, he admitted he has delegated the workload more to his assistants to help take some of the stress off himself.
As a result, Haynes was tasked with running the team's entire offense when they went over to Spain in August.
"Coach Beilein insisted we still go overseas when the time came, even though we didn't want to," he laughed. "He told me I was going to do all the offense — which was something I hadn't done before — but I feel a lot more confident with it now. We just work so well as a team because we have such a great staff in place."
• Beilein's offenses have always been predicated on making the extra pass and finding the open man, and that's a concept Matthews struggled with when he first arrived in Ann Arbor.
"Charles didn't really want to pass the ball when he first got here," Haynes recalled. "We did some drills with him to pass more, and that's when our season started to turn.
"Moe and Duncan started making plays then too, and we were all started finding the open man."