Michigan Wolverines Basketball: Players Talk First Game Of Season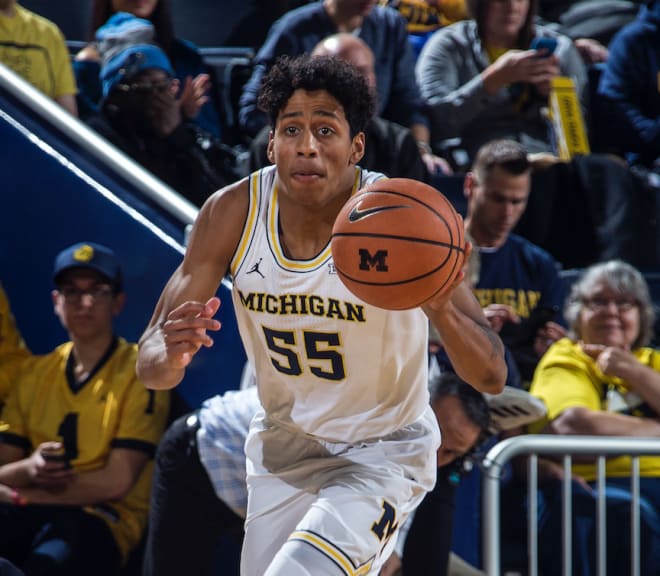 Freshman forward Iggy Brazdeikis came into Michigan with a lot of hype.
Brazdeikis has had success early in his freshman season, earning a place in the Wolverines starting lineup. He's trying to grow and learn from the experience.
"I feel like I'm learning and improving a lot every single day," Brazdeikis said. "I'm trying to take in every single the coaches are trying to tell me because they're the best in the business. I feel like the more I sponge and take in, the better I'll be."
In his first collegiate game against Norfolk State Tuesday, he had 12 points in 22 minutes of action.
"It was amazing," Brazdeikis said. "It was a lot of fun, especially seeing the banners go up for the Final Four and Big Ten championships. It motivates me because I want to be in that same position next year. I just hope we'll be back there this year."
Brazdeikis said the playing his first collegiate wasn't too big of an adjustment because practices had been so hard.
However, Brazdeikis struggled shooting the ball against Norfolk State. He went three of 10 from the field and missed four three-point attempts. While he didn't have success shooting the ball, he wasn't afraid to shoot. It's a sign that Michigan coach John Beilein trusts him.
"I'm feeling a lot more confident with my shot now," Brazdeikis said. "I've been improving it a lot. So, in the drills it seems to be showing during practice. I'm feeling a lot more comfortable with my shot."
Sophomore guard Eli Brooks also had a strong game against Norfolk State. Brooks had eight points off the bench and had 20 points, backing up junior point guard Zavier Simpson.
After an up-and-down freshman season, Brooks has a clear cut role this season.
"Just have confidence in myself more," Brooks said. "Kind of have my role defined more. It's easier to do a have a role if you know what that role is."
In the offseason, like many of the Wolverines, Brooks worked to improve his shot. Against Norfolk State, Brooks saw the fruits of that labor, making three out of four shots, two of which came from three.
"It was a big relief just seeing the ball gives you more confidence going on," Brooks said. "You're willing to take more shots and Coach B Is more willing for you to take more shots."