Michigan Wolverines Basketball Playing With Confidence
Click HERE to sign up for a subscription to TheWolverine.com and get your FREE gift code for $99 in Michigan apparel and gear!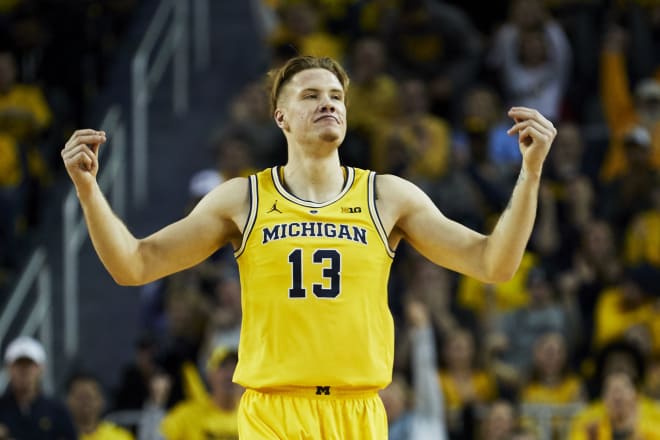 While Michigan's season is only seven games old, the Wolverines haven't wasted any time making statements.
Michigan's 84-67 victory over No. 11 North Carolina was another loud announcement to the rest of college basketball that Michigan's run to the National Championship game was only the beginning.
Last season, Michigan fell to UNC 86-71 also in the ACC/Big Ten Challenge and the Wolverines used that defeat as fuel.
"It's like the football team, we're on a revenge tour ourselves," freshman forward Ignas Brazdeikis said. "We needed to win those games and bring our confidence level up. I feel like we're playing at a very high level right now. We just need to continue to improve every single day."
The Wolverines have found their peak gear early on in the season.
"We went on a good run at the end of the year and we basically came together and said let's not wait until the end of the year to be special," redshirt junior Charles Matthews said. "Let's try to start off the year and continue to grow from there."
Dating back to last season, Michigan has won 21 out of 22 games. This year's team knows what the team did last year, but knows this year is different.
"I feel like we put last year's team and last year's run behind us because we're an extremely new team," sophomore forward Jordan Poole said. "Different team, different dynamics, different guys. We definitely feel like we're talented enough to see if we can do the same thing that the team last year did.
This team is different than most Michigan teams. When they had a chance to put away the Tar Heels, Michigan didn't waste the opportunity.
Michigan outscored UNC in the second half by 13, even though the Tar Heels made the score look better with a late run.
"I saw in the second half, all the player's emotions were kind of down," Brazdeikis said. "We told each other we need to pounce on this, we need to go even harder and put our foots on their throats and that's what we did."
This year's team has found its groove long before March. In throttling UNC, the Wolverines handled the second major test that was thrown their way after defeating Villanova 73-46 in the Gavitt Games.
The defensive identity that last year's team thrived on has ramped up even more. It's become a core part of who Michigan is.
"I feel like that's more of a culture now, it's not like we're on a run," Poole said. "I feel like Coach Yak and all the other coaches have really put down the layer that we're going to be a defensive team. I feel like we have guys on this team that want to win so bad and we're so competitive that we've bought into it."
The major difference between last year's team and this year's team is the addition of Brazdeikis who scored a career-high 24 points against North Carolina, which was his third straight game with 20 points or more.
His confidence and swagger are carrying over the everyone else.
"Every single time I shoot the ball, I think it's going in," Brazdeikis said. "I don't carry a suitcase with me ever — if I'm open, I'm taking a shot. I'm very confident in that. Coach Beilein is confident in my shot. I don't really care about misses or anything like that — I just keep playing."
Brazdeikis is brash, but he's backing up his words with his play. The crowd Wednesday night fed off the energy that he provided and so did his team.
Even though he's just a freshman, he's keeping a level-head about what this game means.
"It just felt really good but we can't dwell on this victory," Brazdeikis said. "This is just a November win for us. It's only the beginning. It's a big mark for us, it shows us where we are at, but we need to continue improving."