Michigan Wolverines Football: Ben Bredeson On Ohio State Loss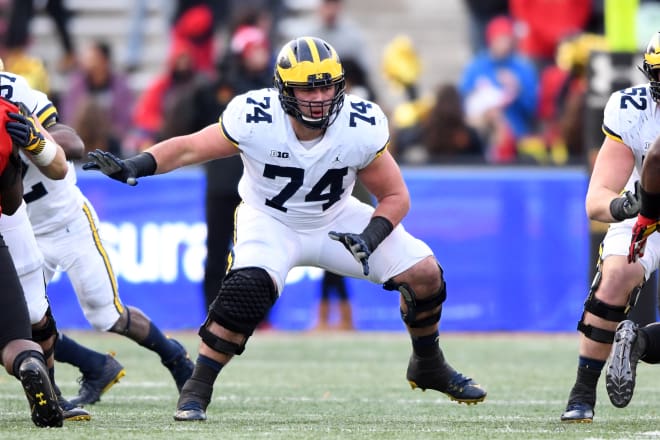 Junior left guard Ben Bredeson left little doubt that he was returning for his senior season at Michigan.
Bredeson said he'll go through the feedback process and weigh all options, but said he is planning on coming back. He wouldn't go as far as making it official though.
"I love this place," Bredeson said. "I didn't really think of leaving. Honestly never even crossed my mind until after the game."
Bredeson said he's going to talk with Coach Jim Harbaugh and do his due diligence about the draft process. He said he's going to use that feedback to help him learn what he needs to work on to get better.
He'll return to an offense that should have nearly all of its starters back.
"We have a lot of weapons," Bredeson said. "Look at our receiving core. They're 19 years old. Next year, they'll be a year older. Bigger, stronger. They'll get another full year with Coach Herb. It's dangerous especially if Shea's here. Haven't talked with him about anything, but assume he would be."
While Bredeson looks to be returning, there's one more game on the Wolverines schedule. Michigan was selected to play in the Chick-Fil-A Peach Bowl against Florida. Michigan will still be motivated for the Gators.
"We're trying to win a championship here," Bredeson said. "We had a lot of big goals, national championship goals at the beginning of the year and obviously those are unattainable. But we're definitely very motivated to win this game."
Bredeson said it's hard to be discouraged by getting a New Year's Six Bowl berth even after the difficult loss at Ohio State. Each player on Michigan has digested what went wrong in Columbus in different ways.
"It's different with every guy," Bredeson said. "I watched the game once, picked out what I did well, picked out what I did wrong and that was it. Didn't look at it again. There's some games like that will just sting forever and you learn what you need to learn and move on."
While he's trying to move on, the loss will linger with Bredeson.
"Some guys like to dwell on those games and really let it motivate them. Some guys respond to that really well. Other guys like myself, just watch it and move on. It's always in the back of your head."
Bredeson sounds like he's coming back and he hopes to avenge the loss to the Buckeyes.
"We didn't get it done against Ohio State," Bredeson said. "Obviously there's more work we can do. There's things we can fix. We just have the right amount of work something that will get us a win over them."