Michigan Wolverines Football: Rashan Gary's Mom Weighs In on Son's Injury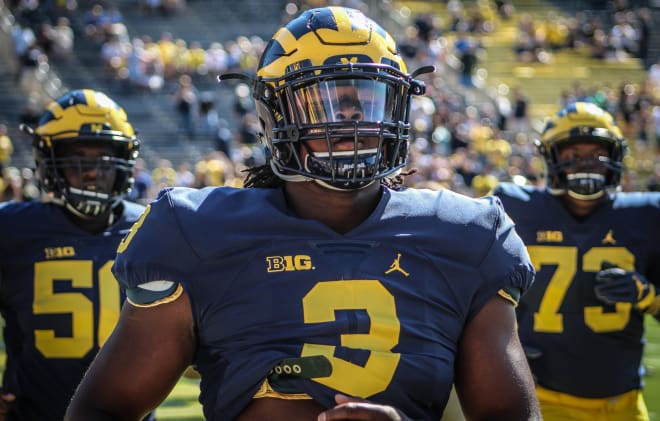 "Rashan and I appreciate your support," she wrote. "He got hurt a week before the Notre Dame game. However, he decided that he could play through it and rehab during the week. However at U-M it's all or nothing and daily practice is jut like a game, so he never had the chance to rest. So instead of getting better, it got worse. Then the last game he played he fell on it and the pain was unbearable."

That game was Northwestern, where he notched a solo tackle and two assists. He hasn't played since, and though he reportedly practiced some last week, head coach Jim Harbaugh said Gary "didn't feel like he could go."
"After MRI and CT Scan he was told that if he DID NOT rest, treatment, rehab and continued to play (four to six weeks) the next time he may need surgery," Coney-Shepherd continued. "So … he followed medical direction, and he's feeling so much better. To play before that time would be detrimental to himself and a disserved to his teammates, so why would people say he's quitting football because he has to heal?"
There's been plenty of chatter from fans, for example, that Gary is going the "Nick Bosa" route and disassociating from college football to concentrate on the NFL Draft the way Ohio State's end and captain did. Coney-Shepherd put that talk to rest.
"My son is and always will be a warrior," she wrote. "My son is a Wolverine! He has pride in himself, his team and his academics and until Michigan plays their last game, he will be a part of the team. He will, however, not participate until he is fully recovered.
"Now that you know, there's no need for rumor or speculation."
Michigan defensive coordinator Don Brown said Tuesday he hoped they could get him back for Penn State.
""We're trying desperately to get Rashan Gary back. We'll see where that takes us with the bye week looking down the barrel," defensive coordinator Don Brown said while subbing for Harbaugh during Tuesday's Big Ten Teleconference. "We'll see if we can get that young man healthy."
Gary's presence would be huge down the stretch. When he's on the field, Brown said, it makes an already fast defense even faster.
"[Sophomore] Kwity Paye, we've done so many things with him along the front. We can move him inside, and it certainly just makes us a faster front," he said. "He can kind of adapt. If people want to go big, we can get big. If they go 11-personnel and spread us out, we can go fast with them."
Gary has notched two sacks in his limited game action (five games).