Michigan Wolverines Hockey Midseason Commit Stats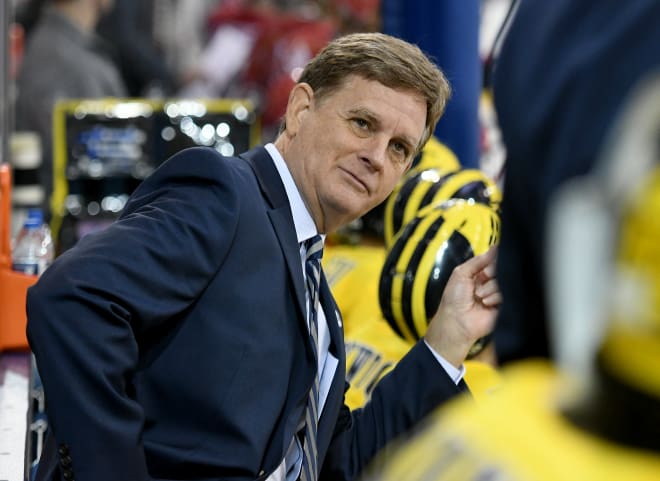 Below is a listing of stat lines for all known Michigan Hockey commits through January 29, 2019. Listings are done by birthyear rather than class due to the likelihood of early departures due to pro signings and de-commits.
Note: Michigan's next goaltender commit is likely to be a player currently playing in Europe. When that player announces, we'll have it here.
GP = Games Played; G = Goals; A = Assists; PIM = Penalty Minutes
1998 Birthyear Players 
F Nick Granowicz; Macomb, Mich. — Plays for Merritt (BCHL)
47 GP, 25 G, 24 A, 32 PIM
D Keaton Pehrson; Lakeville, Minn. — Plays for Tri-City (USHL)
39 GP, 4 G, 17 A, 6 PIM
1999 Birthyear Players 
F Cassidy Bowes; Kelowna, BC — Plays for Penticton (BCHL)
39 G, 6 G, 14 A, 38 PIM
D Steve Holtz; Detroit, Mich. — Plays for Youngstown (USHL)
19 GP, 1 G, 4 A, 18 PIM
D Jake Harrison; West Kelowna, BC — Plays for Fargo (USHL)
37 G, 2 G, 6 A, 68 PIM
2000 Birthyear Players 
F Calen Kiefiuk; Macomb, Mich. — Plays for Central Illinois (USHL)
29 G, 10 G, 15 A, 36 PIM
F Philippe Lapointe; Hinsdale, Ill. — Plays for Lincoln/Central Illinois (USHL)
35 G, 6 G, 16 A, 47 PIM
D Jacob Semik; Canton, Mich. — Plays for Dubuque (USHL)
34 G, 1 G, 9 A, 31 PIM
2001 Birthyear Players 
D Cam York; Anaheim Hills, Calif. — Plays for NTDP U18
50 G, 9 G, 37 A, 24 PIM
F John Beecher; Elmira, N.Y. — Plays for NTDP U18
49 G, 10 G, 24 A, 46 PIM
F Dylan Wendt; Grand Haven, Mich. — Plays for Green Bay (USHL)
35 GP, 2 G, 6 A, 8 PIM
F Nicholas Zabaneh; Toronto, ON — Plays for Green Bay (USHL)
32 GP, 6 G, 7 A, 0 PIM
F Josh Groll; San Diego, Calif. — Plays for Chicago (USHL)
34 GP, 6 G, 5A, 11 PIM
F Austen Swankler; Irwin, Pa. — Plays for Waterloo/Sioux Falls (USHL)
36 GP, 6 G, 19 A, 26 PIM
F Eric Ciccolini; Vaughan, ON — Plays for Toronto Jr. Canadiens (OJHL)
40 GP, 23 G, 28 A, 56 PIM
D Nick Bochen; Vancouver, BC— Plays for Prince George (BCHL)
46 GP, 6 G, 25 A, 14 PIM
F Patrick Guzzo; Marysville, Mich. — Plays for Waterloo (USHL)
36 GP, 1 G, 7 A, 23 PIM
D Ethan Szmagaj; Canton, Mich.— Plays for Waterloo (USHL)
38 GP, 1 G, 12 A, 12 PIM
D Cole McWard; Fenton, Mo. — Plays for Tri-City (USHL)
32 GP, 1 G, 4 A, 12 PIM
F Brendan Brisson; Manhattan Beach, Calif. — Plays for Shattuck St. Mary's (USHS)
33 GP, 25 G, 34 A, 46 PIM
2002 Birthyear Players 
D Jacob Truscott; Detroit, Mich. — Plays for NTDP U17
52 GP, 3 G, 10 A, 40 PIM
F Andrei Bakanov; Moscow, Russia — Plays for Cedar Rapids (USHL)
28 GM, 3 G, 7 A, 28 PIM
D Ethan Edwards; St. Albert, AB — Plays for Northern Alberta X – Treme (CSSHL)
23 GP, 2 G, 15 A, 56 PIM and for Spruce Grove (AJHL): 10 GP, 0 G, 1 A, 6 PIM
F Kent Johnson; North Vancouver, BC — Plays for Trail (BCHL)
48 GP, 16 G, 21 A, 24 PIM
F Mackie Samoskevich; Sandy Hook, Conn. — Plays for Shattuck St. Mary's (USHS)
28 GP, 20 G, 18 A, 13 PIM
D Owen Power; Mississauga, ON — Plays for Chicago (USHL)
33 GM, 4 G, 6 A, 6 PIM
D Mitchell Smith; Saginaw, Mich. — Plays for Oakland Jr. Grizzlies (HPHL U16)
19 GP, 3 G, 8 A, 14 PIM
2003 Birthyear Players 
F Dylan Duke; Northville, Mich. — Plays for Compuware (HPHL U16)
18 GP, 12 G, 10 A, 12 PIM
F Tyler Haskins; Rochester, Minn. — Plays for Chicago Mission (HPHL U16)
9 GP, 8 G, 4 A, 4 PIM
D Luke Hughes; Orlando, Fla. — Plays for Little Caesar's U15
2004 Birthyear Players 
D Hunter Brzustewicz; Washington Township, Mich. — Plays for Honeybaked Bantam Major AAA (HPBHL)
19 GP, 8 G, 26 A, 6 PIM
F Connor Levis; Vancouver, BC — Plays for St. George's School (CSSHL)
22 GP, 19 G, 23 A, 24 PIM
D/F Seamus Casey; Estero, Fla. — Plays for Compuware Bantam Major AAA (HPBHL)
16 GP, 15 G, 7 A , 0 PIM