Michigan Wolverines Hockey Sweeps Lake Superior State
Michigan found an extra gear in their pace of play and received stellar goaltending from sophomore goaltender Strauss Mann, en route to sweeping their weekend series against Lake Superior State at Yost Ice Arena Friday and Saturday nights.
Junior forward Jack Becker potted three goals in the two-game series to help awaken the Wolverine offense, which had managed just two total goals in their opening weekend against Clarkson.
After Michigan jumped to an early 3-0 first-period lead in Saturday's series finale, Lake Superior State narrowed that lead to just one with a flurry of two goals in less than a minute early in the second. Mann made 12 saves, many of them in the crucial last few minutes of the period, to salvage a narrow 4-3 win for the Wolverines.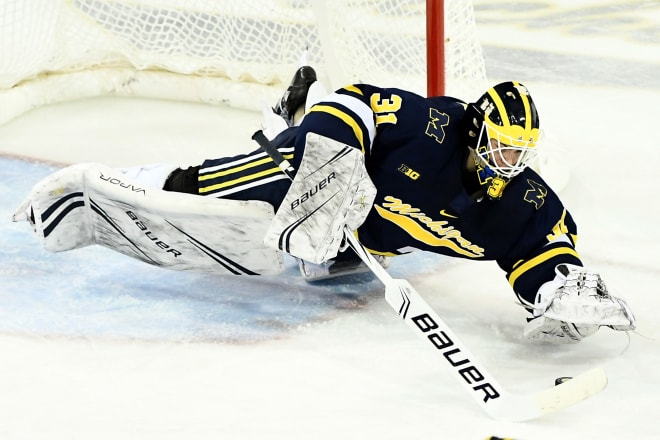 "Overall, pleased with the weekend," said Michigan head coach Mel Pearson of the two-game sweep. "I thought we were ready to play tonight. Things went in the net. We earned the goals. We did a better job of getting to the net, getting bodies there, than we did last night. Really like the start. Then, things got away from us in the second period.
"They're a good team. You knew they would come back hard in the second. We have to learn from that. You have to push the re-set button and be ready to go in the second period.
"I thought Strauss, at the end, played excellent. We played a little soft when they pulled their goalie. We weren't attacking guys. We gave them way too much time and room to make plays. Strauss, in a couple scrambles there, he stood big."
"I feel good right now," Mann said. "I feel confident. I feel like my team has confidence in me, which is really huge. We're playing great. I'm just really trying to make the next stop and focus on the puck. You've got to keep at it and hope for the next win."
In Friday night's opener, Michigan got the right bounces and parlayed that puck luck into a 4-0 shutout win behind Mann's perfect night in net.
Four different goal scorers — sophomore forward Nolan Moyle, sophomore defenseman Nick Blankenburg, Becker and senior Will Lockwood scored for the Wolverines, who needed just that type of diverse offensive attack to make up for their scoring doldrums of the season's opening two games against Clarkson.
"It feels good any time you can get two wins and you can have a little personal success," said Becker of his three-goal weekend. "You've got to use that for confidence and fuel for the fire, and keep going."
The two-game weekend sweep boosts the Michigan season record to 2-1-1.
Michigan Hockey Three Stars Of The Weekend
First Star — sophomore goaltender Strauss Mann: With a shutout on Friday and 12 timely saves in the third period on Saturday, Mann dominated with 47 saves over the course of the weekend.
Second Star – junior forward Jack Becker: Becker's three-goal weekend came at just the right time for the previously dormant Michigan offense.
Third Star – Freshman forward Johnny Beecher: Beecher's three-assist weekend was supplemented by his solid penalty killing effort in both games. Beecher's skating was also a key in Michigan's ability to push the pace of play.
Quotable
• "Our goalie really stood on his head tonight." — Freshman forward Eric Ciccolini of Strauss Mann's Friday 4-0 shutout
• "It was a lot of fun tonight. It was good to get the win for the home crowd, especially. I thought our team played great; defense played great." — Sophomore goaltender Strauss Mann on the team effort in Friday's game
• "Any time you can get a sweep, it's really big for the boys in the locker room. We're excited and ready to get back to work on Monday." — Junior Jack Becker on the overall weekend team performance.
Other Big Ten Hockey Weekend Action
Friday — US NTDP U-18 1 at Michigan State 2 (exhibition)
Friday — Niagara 2 at Minnesota 3 (OT)
Saturday — Niagara 2 at Minnesota 4
Friday — Omaha 2 at No. 12 Ohio State 3
Saturday — Omaha 2 at No. 12 Ohio State 1
Friday — Alaska 0 at No. 9 Penn State 7
Saturday — Alaska 4 at No. 9 Penn State 0
Friday — No. 3 Minnesota Duluth 2 at No. 17 Wisconsin 6
Saturday — No. 3 Minnesota Duluth 1 at No. 17 Wisconsin 3
No. 7 Notre Dame idle
Up Next For Michigan Wolverines Hockey
A home-and-home series next Friday/Saturday with Western Michigan looms for the Wolverines.
Despite posting only a 1-2-1 season record, Western Michigan has been consistently ranked among the top 20 teams this season and will challenge the rejuvenated Michigan offense with their defensive style of play.
Two of those losses for the Broncos came this past weekend in a pair of 2-1 defeats against Bowling Green.