Mike Martin recalls the recruiting process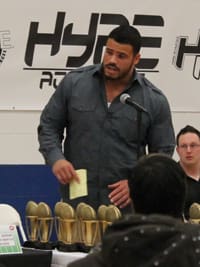 DEARBORN HEIGHTS, Mich. - Feb. 6, 2008, Michigan signed a local product who would go on to be a bright spot during three disappointing years under Rich Rodriguez, and fully blossom into an NFL Draft pick after his lone year playing under new head coach Brady Hoke. Detroit Catholic Central defensive tackle Mike Martin finished his U-M career with 172 total tackles, 25 for loss including 10 sacks.
At the HYPE Athletics Signing Day banquet Wednesday, he offered words of encouragement to two dozen college signees from the HYPE Athletics community. While putting one's name officially on a letter of intent for college may seem like the peak of an athletic career, it's just the beginning.
"When I sat down and I put my name on that national letter of intent, it meant a lot to me," he said. "Whenever I put my name on something, it meant a lot to me, because I was giving my all to that school.
"For me, it opened a lot of doors. When I laid my head down at night and I was done talking to Rivals about stars and being excited about going to camp and everything that went into it. I got a chance to think about what all had happened, and I thought 'there's a lot of work that I've put in, but it's just begun.'"
Before the HYPE Recreation Center opened in Dearborn Heights just a few years ago, Martin worked with the program through co-founder Justin Cessante, one of his assistant coaches at Detroit Catholic Central.
"I'm from Redford right down the street, and I didn't have this building when I was younger," Martin explained. "I went to school from eight in the morning until three in the afternoon, then after school I went to practice.
"After practice, a lot of guys left to go home. There were nine other guys that signed letters of intent with me, and those were the same guys that were putting in the extra work across the board. We did the things we weren't told to do, but it meant a lot to us."
Martin was just the second member of his family to go to a renowned institution like Michigan, and his accomplishments on the football field spoke for themselves. He was a second-team all-conference performer as a senior, and managed to earn a selection in the third round of the NFL Draft, where he was selected by the Tennessee Titans.
It was the night before his selection in the NFL Draft, however, that meant just as much to he and his mother.
"My mom, she was my rock," he said. "My dad wasn't really around the way that he should have been. My mom, she went thorough the storm. You guys have parents that love you and care about you, and you have to make them proud.
"When I got drafted two years ago, I was at a place in Ann Arbor called Conor O'Neill's. That moment came after the moment that meant just as much to me. I was at home with my mom, and I got a big letter in the mail from the University of Michigan with my degree in Communications and Marketing. My mom puts her arm around me, and she starts crying. It touched me. I made her proud."
Martin's emphasis on achieving not only in the football world, but also off the field, hit home with the college signees in attendance. He left them with one last piece of advice: always do what it takes to get better.
"I don't care if you're in the business world, a doctor, a preacher, a teacher, you always have to make yourself better," he said. "When you wake up every single morning, you have a choice: 'am I going to get better, or am I going to get worse?' You will not stay the same.
"Tomorrow I could walk outside and blow my knee out. I don't want to think about that, but anything can happen," he added with a nervous laugh. "What nobody can take away from you is our heart and your mind."
For the HYPE Athletics community, the improvement athletically and in all phases continues the philosophy.
And share this story: