Molk is Michigans first OL commitment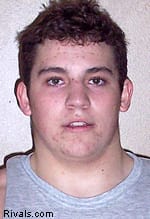 On Thursday morning, Michigan garnered its 10th verbal commitment, and first offensive line commitment in the Class of 2007, when Lemont, Ill., center
David Molk
made his decision in U-M's favor, the
Chicago Sun-Times
is reporting. The 6-1, 270-pounder is considered among the nation's top centers and is ranked among the top 10 players in the state of Illinois.
Molk's verbal did not come as a surprise to Michigan and its fans after a splendid visit to Ann Arbor this past weekend. Upon returning home, he spoke to TheWolverine.com, noting, "I'm pretty sure I'll have my decision done by the end of this week."
That's typically a good sign for the school just visited. Molk is rated a three-star prospect according to Rivals.com and the eighth-best player in the state of Illinois.
"It is kind of surreal now that I actually made [a decision], Molk stated in an article with the Chicago Sun Times. "My goal since I started to play football was to play big-time college football. For a long time, I didn't fit the profile. But now I realize all that work was worthwhile. My next goal is to play in the NFL."
Stay tuned to TheWolverine.com for more on Molk – including comments from the player and coach – in the hours and days to come.
Click Here
to see the original article reporting his commitment, and to see video of Molk in action,
click here
.