NCAA streak ends, but U-M made Michigan proud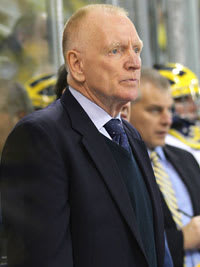 It's over. Michigan's 2013 postseason streak came to an end in a 3-1 loss to Notre Dame in the CCHA finals. Bigger picture, the Wolverines' 22-year NCAA Tournament run is dead, but this edition of the Maize and Blue has nothing to be ashamed about.
They showed up for the post-game press conference Sunday red-faced, the tears still drying on their cheeks, but as they were asked about this year's playoff march, and what it meant to come so close to extending the NCAA record, senior captains Lee Moffie, Kevin Lynch and A.J. Treais replaced the quiver in their voice with strength.
"A lot of people didn't believe in us two months ago," Lynch began. "We just said we had to stick together and if we believe in each other we'll make something happen, and we did it. We came up a little bit short, but the guys sitting to my right and left I couldn't be more proud of."
Michigan was 10-18-2 just five weeks ago, certain to miss the NCAA Tournament. Certain to be remembered as the worst U-M team in more than two decades. They wouldn't admit it then, but there was embarrassment, humiliation, and the Wolverines didn't want to carry those descriptions around the rest of their lives.
Today, those adjectives have been replaced by determination, perseverance, and passion.
"Our team had heart, it just wasn't our day," head coach Red Berenson said.
Some day we'll look back on this loss, and this season, and lament what could have been. If only freshman goalie Steve Racine, who starred for much of Sunday's loss in making 30 saves and was dominant in the postseason, had emerged earlier.
If only the Michigan defense had been healthy all year and had played with the simple, smart style that was evident in the tournament.
If only U-M's forwards would have played to their potential for November, December and January.
If only … then maybe the Wolverines would have been in position for an at-large bid and wouldn't have needed to win six CCHA Tournament games.
But that wasn't the Maize and Blue's predicament. They did have to win six games, and after sweeping Northern Michigan and Western Michigan in consecutive weekends, and after beating the league's regular-season champion, Miami, 6-2 in a CCHA semifinal Saturday, it certainly appeared Michigan would do just that, capturing an NCAA berth in glorious fashion.
Alas, it wasn't meant to be. Not this time.
"Obviously you can't ever count out Michigan even after the regular season we had," Lynch said. "Every team can make a run, especially in playoff time. You just have to put it together, and we did that."
Moffie admitted in the post-game press conference that this team stood divided for much of the year, but credited the captains and the seniors with pulling the Wolverines together before it was too late. Before they were branded as failures.
"This team has come a long way," Moffie said. "At the beginning of the year, we weren't a close team at all. We had issues. For us three, and the rest of the seniors, we really helped this team come together. I'm really proud of this group. We just came up one goal short in the final game."
Just short. Perhaps that's how this team will be remembered years from now - for coming up one goal, one game short of its destination. But for those that wore the winged helmet previously. For those that coached these men, cheered them on from the stands or wore the sweater this year, they won't remember the 2013 season as one of regret and disappointment, but for the incredible surge that almost culminated in a much-deserved NCAA bid. For making Michigan proud.