New twist for U-M kicking camp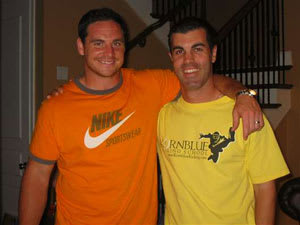 Past Michigan kicking camps have been showcases for some of the nation's top prep kickers, the place where a few of the standouts – like former U-M placekicker Garret Rivas – have earned their offers. While the U-M coaches have run past camps, this summer's will be led by a familiar name.
Former Michigan walk-on kicker Brandon Kornblue wasn't sure what to expect when he started his Kornblue Kicking School in southern Florida, but his success – and the potential for more – has expanded exponentially since the camp's inception a few years ago. The former Arena League kicker turned math teacher at Naples (Fla.) Golden Gate High has included U-M among his clientele, having sold his pitch to head coach Rich Rodriguez.
This year's Michigan camp will be held June 29-30 and run by Kornblue with help from former U-M and current Miami Dolphins kicker Jay Feely, Michigan All-American Remy Hamilton, Rivas (potentially), Phil Brabbs and other former Wolverines. It's an all-in-the-family approach that's energized all involved.
"Having gone to Michigan and grown up a Michigan fan my whole life ... my business has grown over the last few years, but this has been one of the main targets in what I wanted to do, not only to help my business but as much to give back to the University," said Kornblue. "I want to help the program and have an effect in terms of trying to put all the effort I can to bring kicking talent toward Michigan, helping the guys who are already there or who are perspective recruits … help them prove their kicking ability and talent.
"[Landing the camp] has been a process that started last year talking to coaches. With the [coaching] transition, I had to start again in getting to know all those guys, let them know what I wanted to do, the idea why they would want me to do it. They bought into it."
Rodriguez indicated he'd like the Michigan camp to be the best in the country, and Kornblue hopes to oblige. His experience – a national championship ring at U-M in 1997,the Arena and Spring Football Leagues, six seasons as the kicker for the Florida Firecats (af2) in which he became the league's all-time career leader in field goals made, PATs made, and total points by a kicker, among other honors – seem to make him a natural.
It was somewhat by accident, though, that he started his camp, Kornblue acknowledged.
"I started when I came out of college - I would work with a guy at my own high school that I went to, where I got into teaching," said the 1994 Lou Groza Award (south Florida high school version) winner. "Then it became a couple guys at the school. As I was playing with the Arena team here for about six seasons, my name got out there. Some kids would come up to me at games and ask for help, see if I was available for lessons. It grew from a handful to several different schools."
When he retired from the Arena League, which overlapped with camp possibilities during the summer, business started booming.
Kornblue will also handle the Florida Atlantic University kicking camp this summer, though most of what he does is year-round training nearly every weekend throughout the year. He's also involved in the Combine Series involving a group of 10 different companies throughout the country in which participants are asked to kick through regionals, semifinals and finals, a way to evaluate talent over a period of time rather than just at one camp.
Other opportunities, meanwhile, continue to arise. Word has traveled fast, to the point that Kornblue's camp (www.kornbluekicking.com) has become an even hotter commodity.
"Things are popping up like crazy,'" he said, "including some potentially huge deals. But the Michigan camp is definitely the biggest thing I wanted to do personally, trying to help the program."