NIL Tracker: Jace Howard Is Michigan Basketball's First 'Barstool Athlete'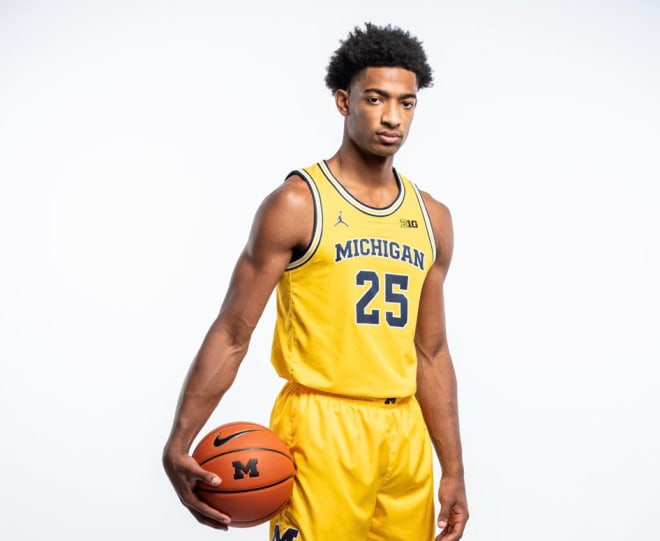 Jace Howard Becomes Michigan Basketball's First 'Barstool Athlete'
Michigan basketball freshman guard Jace Howard, son of head coach Juwan Howard, isn't the first U-M athlete to sign with the popular Barstool Sports and its new marketing agency started by founder and U-M alum Dave Portnoy (see the others below) but he is the most significant name to do so.
Howard has over 18,000 followers on Instagram and 8,440 followers on Twitter, and comes from a famous family. Despite not receiving much playing time last season, Howard, already a fan favorite, is well-positioned to profit from his name, image and likeness as his career unfolds.
Aidan Hutchinson Partners With The Players Trunk
Michigan football junior defensive end Aidan Hutchinson is selling a No. 97 jersey t-shirt on The Players Trunk, a company co-founded by former U-M basketball star Charles Matthews that gives athletes the platform to monetize through gear, collectibles, merchandise and experiences. Hutchinson's shirt has his last name on the back and a 'Hutch' logo on the front.

Adrien Nunez Launches Merchandise Line
While he's not a star player, perhaps no Michigan athlete is set to profit more from the new rules than junior basketball guard Adrien Nunez, who has over 1.6 million followers on TikTok and 111,000 followers on Instagram.
He now has the ability to be compensated for performing paid social media posts, and he has also launched his own merchandise line — which is being sold on his website, AdrienNunez.com — that includes his own logo, a silhouette of his head.
Blake Beers, Caroline Bean Become 'Barstool Athletes'
Michigan baseball senior pitcher Blake Beers, men's lacrosse junior John Kiracofe and women's lacrosse freshman Caroline Bean have joined Barstool Athletics, a marketing firm run by Barstool Sports, a sports and pop culture site headed up by U-M alum Dave Portnoy.
Several Michigan Athletes Partner With Yoke Gaming
Michigan football freshman running back Blake Corum was one of the first to sign with Yoke Gaming, a platform that allows fans to pay to play video games with their favorite athletes. Several of Corum's teammates, including freshman linebacker Junior Colson, sophomore wide receiver Mike Sainristil, redshirt junior defensive tackle Donovan Jeter, and freshman cornerback Darion Green-Warren, have inked with Yoke.