No. 15 Michigan Wolverines Hockey Weekend Preview: Minnesota
Click HERE to sign up for a subscription to TheWolverine.com and get your FREE gift code for $99 in Michigan apparel and gear!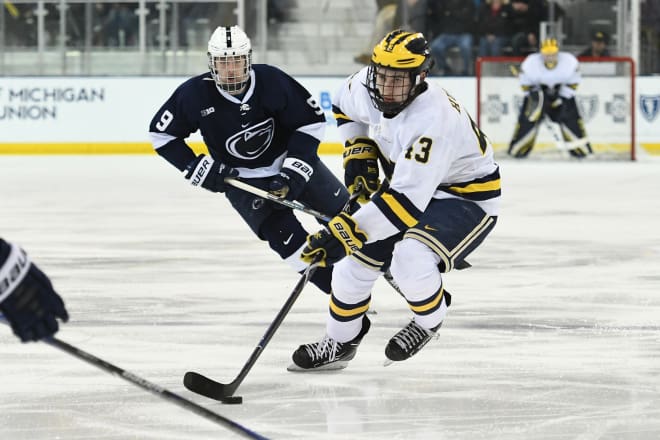 Two traditionally upper-echelon hockey programs, No. 15 Michigan (6-6-3, 2-3-3-1 Big Ten) and unranked Minnesota (4-6-3, 2-2-2-0 Big Ten) conclude disappointing first halves of their 2018-19 seasons Friday and Saturday nights at Yost Ice Arena.
Michigan seeks to re-ignite an offense that has only been able to muster seven goals in their last four games. Sophomore forward Josh Norris, currently third in the Big Ten with nine goals, will be relied upon, along with his linemates, junior forwards Jake Slaker and Will Lockwood, to spark the Wolverine offensive attack. Nicknamed the "SNL Line", the trio of Wolverines is responsible for 42 percent of the team's 48 goals with 20 total markers.
Minnesota's offensive attack has been even more anemic to date this season. The Golden Gophers have scored only 34 goals in 13 games this season, dead last in overall scoring among Big Ten teams.
Both weekend games will be carried on the Big Ten Network with start times each night of 8 p.m. Eastern time.
Michigan Player To Watch
Sophomore defenseman Quinn Hughes leads Michigan in overall scoring from his position on the blue line with three goals and 16 assists. Hughes' puck control on both the offensive and defensive allows him to be a key catalyst in the Wolverines' offense.
Minnesota Player To Watch
Junior netminder Mat Robson has stepped forward this season for Minnesota to post a stellar 2.53 goals-against average along with an equally solid .923 save percentage in nine games.
Other Weekend Big Ten Hockey Action
Michigan State at Wisconsin (Fri./Sat.)

No. 5 Notre Dame at No. 9 Penn State (Fri./Sat.)
No. 7 Ohio State — idle
Big Ten Hockey Standings