{{ timeAgo('2021-05-03 09:00:00 -0500') }}
football
Edit
Notebook: Michigan Football's Daily Search For Transfer-Portal Talent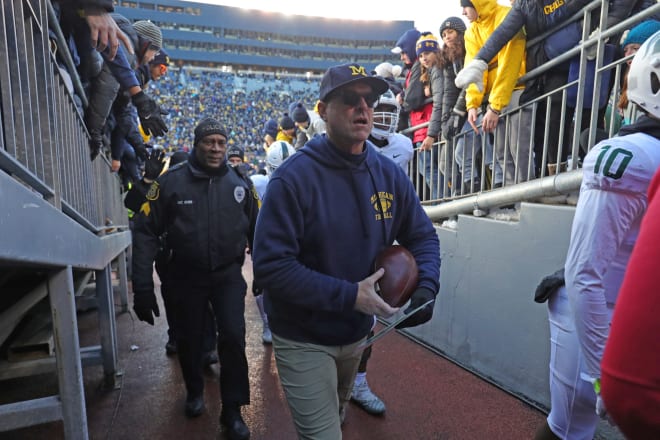 Michigan Closely Monitoring The Transfer Portal
There has been an increased level of activity when it comes to the college football players entering their names into the transfer portal and looking for greener pastures, especially with the recent passing of the one-time transfer rule, something Harbaugh has led the charge on as one of the first who called for more freedom for student athletes.
At the same time, there has been a growing frustration among the Michigan fan base because, while schools like Rutgers and Michigan State have been adding transfers left and right, the Wolverines have not, other than bringing in Texas Tech quarterback Alan Bowman, who is set to enroll this summer.
Last October, former Lousiana Tech offensive lineman Willie Allen committed to transfer to Michigan, and he arrived on campus in January for winter conditioning and spring ball. But after not seeing his name rise on the depth chart, he decided to put his name back in the portal and look for what will be his fifth school in five years. He became the 14th Michigan player to leave the program since the team last played a game (Nov. 28, 2020 against Penn State). That number — the highest in the Big Ten — is also a reason for frustration among the faithful.
But it's not always as easy as it looks, and it's not that Harbaugh and Co. aren't pursuing players in the portal.
"Looking at it — every day — those that are in it," Harbaugh said. "We've contacted several."
Defensive tackle John Ridgeway is one name among a handful that Michigan kicked the tires on. But it wasn't to be, and he ended up committing to play at Arkansas.
It is, of course, more complicated than the traditional process of recruiting players out of high school. If a prep prospect have the grades, you want them and they want to come to your school, there aren't many questions to be asked after that — it should work out.
Portal players, though, need credits to transfer, otherwise they can lose some of the work they've done in the classroom. That, in turn, makes some players almost impossible to land at a place like U-M.
"That's an ongoing process," Harbaugh added. "We're looking — that's our philosophy."
And that's the truth — former Ohio State receiver Jameson Williams is the newest name to watch — even though the likelihood of the Wolverines adding a transfer is significantly lower than some other programs in the sport.
Courtney Morgan Hitting The Ground Running
Former Michigan offensive lineman (1999-03) Courtney Morgan was tabbed by Harbaugh to be the program's Director of Player Personnel, a role in which he'll spearhead the recruiting and player development efforts. Former Director of Recruiting Matt Dudek has moved on and taken a job at Mississippi State.
Morgan previously worked in a similar capacity at San Jose State and UCLA, and has plenty of ties in the West and throughout the country.
His hiring is a sign that Harbaugh is serious about revamping the program's recruiting, and he's already making an impact. Just days after Morgan was formally introduced, job posting for "Director of On-Campus Recruiting & Operations" and "Director of Football Branding & Strategic Communications" appeared the university's website, another sign that the Wolverines are upping the ante in recruiting and pulling out all the stops — within the rules — to compete with the 'football factories' like Ohio State.
Recruits have spoken highly of Morgan so far, and so did Harbaugh.
"Been working with him every day, and a wealth of experience is what he brings, also a love for Michigan," Harbaugh said of Morgan.
"It's exciting to have him around. He's bringing good, fresh perspectives, so really happy working with Courtney every day. He's going a really good job. It's something that's very, very familiar to him. He's got a great focus and knows what he's doing, so it's been a lot of value added there."
Aidan Hutchinson's Leadership At 'The Highest Level'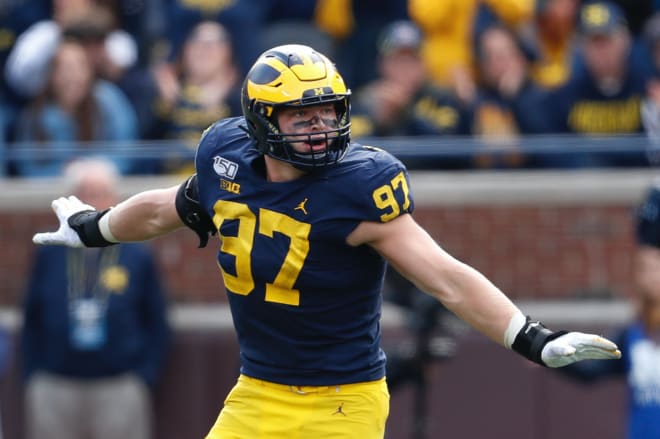 Junior defensive end Aidan Hutchinson decided to come back for at least one more season with the Wolverines, and he continues to be one of the key pieces of the defense.
He is working to get back to 100 percent after an ankle injury forced him to miss the second half of the 2020 campaign, and while he didn't participate in every contact drill during spring practices, he is still focusing on leading the team — "at the highest level" —as a returning captain.
"It's what you expect, what we've always seen here at Michigan," Harbaugh said. "I go back to my days and think of the guys that were like that — truly talented players that had a work ethic that was extraordinary to go with that talent. The talent and the effort were at the elite level — both.
"Anybody that's ever played at Michigan or had a teammate that was all in for the team and leading by example and doing everything in his power to get as good at football and have the rest of the team get as good at football and do everything right, — that's Aidan Hutchinson."
NFL Draft An 'Exciting Time'
Michigan saw eight of its former players (out of a possible 11) be picked in the 2021 NFL Draft, which was tied with Florida for the fifth-most out of any school. Ohio State and Alabama tied for the most with 10, while Georgia and Notre Dame checked in at second with nine.
Harbaugh has now had 39 Michigan players drafted in six years, which is not a small feat.
"It's an exciting time, it sure is," Harbaugh said. "We've gone through pro day here, and had a chance to see some of the guys coming in and out of the facility and working out. They look good; they look ready to go.
"The good about the draft is they know where they're going, and they're on their way to take their shot, live their dream and it's all very exciting."
His program continues to churn out pro talent.