Quinton Washington picks Michigan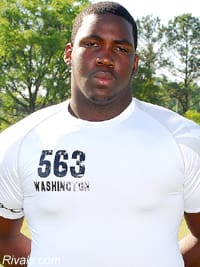 It's the day before Signing Day, but Michigan fans won't have to wait until tomorrow for good news. St. Stephen (S.C.) Timberland four-star guard
Quinton Washington
, Rivals.com's No. 8 player at his position and a four-star recruit, committed to the Wolverines today, head coach Art Craig said.
"He decided for Michigan this morning," said Craig. "It weighed on him very heavily, but I that think it boiled down to him thinking that was the place for him. There's an opportunity for him to explore some other things [away from home], he thought.
"I think [offensive line coach] Greg Frey was a big reason ... he was a difference maker in that decision."
Michigan secondary coach Tony Gibson also played a big role in Washington's recruitment.
Washington picked U-M over South Carolina, and while he visited Miami over the weekend, the Hurricanes weren't in the mix at the end. Academics were to play a huge role, Washington's father Arthur said after his son's September visit to Ann Arbor, but Michigan's win over Wisconsin and the Michigan Stadium atmosphere also played a role in swaying him.
"I just had a really fun time," Washington said at the time. "I got to meet all the coaches and all the coaches were real cool, down-to-earth. I had a really good experience up there.
"It was real live – the livest I've ever seen anything and just a fun experience. There were a whole lot of people and it was crazy."
Washington shined at the December Shrine Bowl for the Carolinas, Rivals.com analyst Mike Farrell reported, making the South Carolina squad's final Hot 11.
"Washington started slowly during the week and got better and better and better," Farrell reported. "He picked up the zone-blocking scheme by the middle of the week and began to flash excellent agility, quick feet and the ability to get to the second level and be effective. Washington is strong at the point of attack and nimble and agile enough to hit moving targets."
Watch TheWolverine.com for more on this developing story in the hours to come ...