Recruiting Recap: Chase Winovich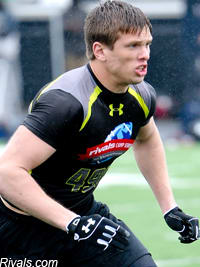 In the weeks leading up to national signing day, we'll take a look at each one of Michigan's commits.
Location: Jefferson Hills (Penn.) Thomas Jefferson
Height: 6-3
Weight: 216
Rankings: Four-star prospect, ranked the No. 9 player in the state of Pennsylvania, according to Rivals.com.
Committed: June 1, 2013.
Other Notable Offers: Arizona, Arkansas, Florida State, Michigan State, Missouri, Northwestern, Ohio State, Pitt, Tennessee, Virginia Tech, West Virginia.
The Latest News On Winovich:
"After scouting players in the class for their entire high school careers, the Rivals.com National Analyst Team got one last look at the players in the Class of 2014 over the all-star game season. While plenty of players saw their stock rise and some saw theirs fall, a select group earned four-star status in the final update of the cycle.
"The final update typically features the fewest additions of four-star players and this year was no exception. Of the 97 four-star players who are ranked outside of the Rivals250, just eight are new additions this go round.
"The eight players who made the cut are Corona (Calif.) Centennial running back Tre Watson, Hampton (Va.) running back Marshawn Williams, Plantation (Fla.) American Heritage wide receiver Isaiah McKenzie, Las Vegas Bishop Gorman offensive tackle Nick Gates, West Valley City (Utah) Granger offensive tackle Kenyon Frison, Hinsdale (Ill.) center Brian Allen, Bellflower (Calif.) St. John Bosco weakside defensive end Jacob Tuioto-Mariner and Jefferson Hills (Penn.) Thomas Jefferson linebacker Chase Winovich.
"Winovich did a little bit of everything for Thomas Jefferson, as the Jaguars took advantage of the 3-star athlete's size and strength. On offense, Winovich operated as a Wildcat quarterback, passing for 210 yards while rushing for 981 yards and 16 touchdowns.
"But he made his mark on defense, and the 6-foot-4, 215-pound outside linebacker had 57 tackles, 13 sacks, three forced fumbles and three fumble recoveries in his senior season."
"His relationship with fellow Michigan linebacker commit Michael Ferns, a four-star from St. Clairsville, Ohio, helped lead Winovich toward Ann Arbor. However, the friendship the two forged was not just a recruiting ploy, and they've stayed close ever since.
"'He was here last weekend, he stayed with me,' Winovich said. 'It was a cool experience. And he was here over the Fourth of July, but it was just awesome. He's a good guy, and we had a great time. We've already established that we're going to be roommates, so we'll see what happens when we get up there.'
"Relationship-building has been a consistent theme in Michigan's recruiting ever since Hoke arrived in town. The Barbecue at the Big House recruiting event just a couple weeks ago continued hammering those themes. Whereas some schools' events to showcase their programs to recruits are all about flash, Michigan's Barbecue aims for a more personal approach.
"Winovich got to meet most of the future teammates that he hadn't yet met, and mingled with those he had already gotten to know. Even those he met for the first time felt familiar due to the wonders of modern technology."
Analysis from TheWolverine.com's Tim Sullivan:
Strengths: "Winovich follows a common theme with some of Michigan's other linebacker recruits in the class: he is big and athletic. He started at quarterback for his high school team, leading the squad in rushing to go along with his team lead in tackles."
Weaknesses: "Winovich is a little inflexible running sideline-to-sideline, and will have to work on his pass drops at the next level. While he's a bullet heading into the backfield, learning how and when to execute his rush against better players in college will be an adjustment."
What To Expect From Winovich In 2014: The rookie season of Winovich may be an interesting one. As discussed in the linebacker Michael Ferns' edition of "Recruiting Recap," the Wolverines are starting to build the type of depth and experience in the linebacking corps that will allow them to redshirt first-year players.
As with Ferns, Winovich will likely be buried on the depth chart at weakside outside linebacker, behind two-year starter James Ross III, Ben Gedeon and Royce Jenkins-Stone.
But Winovich has the athleticism to play either WILL or strongside outside linebacker, and that is where he could potentially have the opportunity to play in 2014, if things shake out a certain way.
For starters, the Wolverines relied on three guys at the SAM spot in 2013: Jake Ryan, the undisputed defensive star of 2012 who missed the first half of the season with a torn ACL; Cam Gordon, who had a resurgent season as one of the most pleasant surprises and most improved defensive players; and Brennen Beyer, who transitioned back to defensive end when Ryan returned from injury.
Next season, Ryan will be back in the fold and will have, hopefully, recovered all of the athleticism that made him so dangerous in 2011 and 2012.
But Gordon has moved on after graduation, and Beyer may very well stick at defensive end.
If the coaches don't decide to move Beyer back to SAM, Ryan's backup will be rising redshirt sophomore Allen Gant, a former safety who contributed on special teams in 2013 but has never taken defensive snaps in a game.
With the way Michigan defensive coordinator Greg Mattison likes to rotate, a guy like Winovich very well could play his way onto the field with an impressive showing in the summer and fall camp.
What To Expect From Winovich In His Career: Winovich could play either outside linebacker spot, but his future is most likely at SAM.
Ryan will graduate after next season, leaving a big hole at that position. Along with Gant, Winovich could see really significant snaps in 2015 at SAM and be a consistent and heavy three- or four-year contributor, depending on whether he redshirts in 2014.