Robinson injured, but not seriously, in win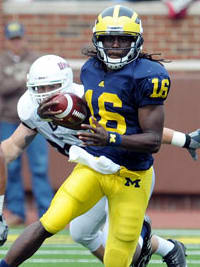 Michigan quarterback Denard Robinson racked up 189 yards of offense and two touchdowns in a half quarter before leaving the game with a knee injury following a 47-yard run in a 65-21 win over Bowling Green. Head coach Rich Rodriguez said his sophomore could have returned if needed.
"Denard seems to be fine ... talking to him and the trainers, he had two things that happened; he landed on the ball and lost his breath, and then he tweaked his knee a little bit," Rodriguez said. "If he had to come back in, he could have. He'll get some treatment and get ready to go, be fine for next week."
Robinson wouldn't need x-rays or further testing, Rodriguez confirmed.
"I don't believe so. I don't think there's anything there. He'll get some ice and rest it for a couple days," he said.
"The trainers can feel that. Denard was moving around real good on it ... and the trainers are more qualified than Denard is, so he should be okay."
"He just banged himself up a little bit on that last run," quarterbacks coach Rod Smith added. "He actually could have went back in but we decided not to, let him rest for the rest of the first half, and if we needed to come back to him in the second half, we could have but we felt like we didn't need to.
"Tate [Forcier] and Devin [Gardner] went in there and did a good job so we could afford to give Denard the rest. We planned on playing those guys anyway but this was a little more quickly than we planned. But he's fine and he'll be ready to go against Indiana."
The Wolverines lost running back Michael Shaw (lower leg) and tackle Perry Dorrestein (knee) during the game, but both will play next week at Indiana, Rodriguez confirmed.
"[Shaw] was pretty much the same as Denard, just a little bit sore. Again, getting all those guys some reps was invaluable," he said. "Perry is fine. I think he got a hangnail or something on his toe [laughs]. When you put 320 pounds on a bad toe, maybe it's more painful that it would be for you or I."