Schlissel expected to announce Brandons resignation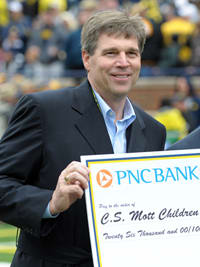 Several sources have informed TheWolverine.com that Michigan athletic director Dave Brandon is expected to resign Friday. President Mark Schissel will make the announcement at a 1:30 p.m. press conference from the Fleming Administration Building in Ann Arbor.
An interim athletic director is expected to be named at that time.
Brandon was hired March 8, 2010 and guided the program through NCAA violations related to practice time under head coach Rich Rodriguez. He was responsible for several facilities upgrades, events like the first night game in Michigan Stadium History (vs. Notre Dame in 2011), the Big Chill at the Big House hockey game vs. Michigan State in 2010 and the NHL Winter Classic, Detroit vs. Toronto, in Michigan Stadium last year. He lent his support to head basketball coach John Beilein when the Wolverines started 1-6 in Big Ten play, only to turn it around and make the NCAA Tournament.
"I'd have to go out and hire another John Beilein," he said when asked if he was considering replacing the coach.
He fired Rich Rodriguez and replaced him with Brady Hoke in Jan., 2011. Hoke went 11-2 and won the Sugar Bowl in his first year and fielded a competitive team in 2012, but it's been downhill since for the football program.
It came to a head this year when sophomore quarterback Shane Morris remained in the Minnesota game for a play after suffering what was later revealed as a "probable, mild concussion." The timing of the news release - 1:00 a.m. on Monday morning - prompted outrage from many and was addressed by Schlissel in a release.
This week, even Miami Dolphins owner and Michigan preeminent donor Stephen Ross announced he wouldn't object to any decision made on Brandon, weeks after expressing his support for Brandon. At that point, it appeared Brandon's days might be numbered.
Watch TheWolverine.com for more on this development in the hours to come ...