Scouting Darius Morris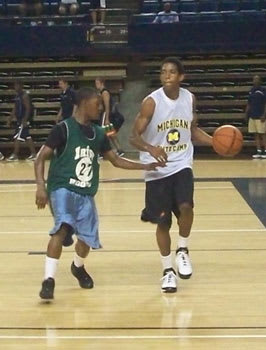 Michigan point guard signee Darius Morris has picked up his play in recent weeks, looking every bit the part of a Rivals.com Top 100 player in the class of 2009. Here's part one of a series of scouting reports on the 6-4 standout from Los Angeles Windward.
TheWolverine.com member Tom McCanna, a high school coach in California, was on hand Friday night to provide this assessment:
This is the first time I've caught Morris this season and it is clear he has grown since the spring and he is starting to fill out a "little bit". He is 6'4 and probably 175, certainly has room to add weight.
Windward went up against a pretty ordinary Valley Christian team that tried to slow down the Windward attack by playing a packed in, 2-3 zone. Windward wasn't fazed by it and got out to a big lead early. Morris facilitated the offense well in this stretch ... he was content to play at the top of the zone and distribute the ball into the high and low posts. Morris' teammate Wesley Saunders, a 6-5 sophomore forward, was the primary beneficiary of Windward's zone offense.
As an aside, Saunders is someone UM fans might want to keep an eye out for … the kid is a very good athlete with a great feel for the game. He seemed comfortable in a crowd and was pretty automatic in the paint. He finished with 18 points and six or seven rebounds, and there's a lot of upside with this kid. Plus, it looks like he is still growing.
On more aside ... assistant coach John Mahoney was in the house to watch Darius. Mind you, this was a 7:30 pm Pacific Time tip-off on Friday night with U-M playing a 1:00 tip at Purdue Saturday.
Once Windward exposed the high and low post gaps in the Valley Christian zone, Morris began to be more aggressive, driving into the paint and looking for opportunities at the basket or pulling up for a three or mid-range shot. He hit his first two perimeter shots (one from long range) but really cooled off from the perimeter after that. (For the record, he'd been shooting extremely well from long range this year).
Morris scored 21 points on nine of 16 shooting (1-for-6 on threes). He was efficient in the paint, finishing at the rim on a couple of pretty drives and displayed a couple of nice floaters from the eight- to 10-foot range. He notched assists and added five rebounds to his tally.
As a point guard, Morris does a nice job getting Windward organized, although sometimes it almost looks like he defers too much to his teammates. However, when he turns the motor on, he has plenty of flash to his game. He is a very good passer and uses his size and athleticism to make some excellent passes in transition and/or on penetration. The drawback is, sometimes he gets a little to greedy, trying to bullet a no look pass in a tight spot or making a behind the back pass that maybe a little unnecessary.
Overall though, Morris has great presence and seems to be very unselfish and does a great job of executing the teams "plan," even though it seems the plan sometimes doesn't take enough advantage of his skills.
Defensively, Morris is active and long and gets plenty of deflections. Windward mixed up its defenses a bit playing man, zone and pressing full court. The entire Windward team liked to gamble a bit on defense, and that is where Morris would be most effective, getting into passing lanes, deflecting passes on traps, etc. It's hard to gauge Morris' on the ball defense since Windward didn't show much man in this game.
Against a team like Valley Christian, Morris did his job ... executed the offense, helped his team build a nice lead and did what he could to keep Windward comfortably ahead. Morris and the starting group sat the entire fourth quarter and Windward won by a solid 25-point margin.
Morris and the Windward squad have some big games on the docket over the next few weeks and we will continue to monitor his progress and report back. Additionally, there will be plenty of video on Darius posted over the next few weeks, as well.
For the time being, those who missed past video of him and want to get a feel for his game can click here: