SIGNING DAY: Vinopal out to prove critics wrong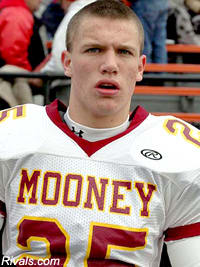 Ray Vinopal
knows Michigan fans wanted four-star safeties Rashard Knight and Sean Parker. He knows he's a two-star recruit and he's not even ranked among the Top 75 prospects in the state of Ohio, and that people take one look at him and dismiss his ability to impact at safety, but he doesn't care about any of that …
"There is a stereotype out there that works against me too," he said. "I'm constantly told I need to move to a position that requires less athleticism and speed, but I run a 4.42 40-yard dash. I was an all-state sprinter the past two years. They say I'm 5-8 and too small - but every knock on me is wrong. The information is wrong.
"I'm from Youngstown, Ohio and at Cardinal Mooney we know how to put the work in. This is a blue-collar town and we're a blue-collar football team and I'm ready to outwork anybody that doubts me. I have a chip on my shoulder and I'm going to compete that way."
Columbus DeSales coach Ryan Wiggins warned his players not to underestimate Vinopal when his team prepared for the Division III state championship. His words did not help, though, as Vinopal raced 54 yards for a touchdown en route to a 75-yard afternoon in Mooney's 35-7 win. He also recorded four tackles.
In five playoff games, Vinopal rushed for 322 yards and four scores on 35 carries (9.2 yards per carry).
"I'm real thankful to Coach Wiggins because he gave me my due in the newspaper - he said I was one of the fastest players he's ever coached against - so I called him and thanked him," the 5-10, 178-pounder said.
"Constantly being overlooked does play to my advantage. People don't expect what they get out of me. I come out of my break flying to the football, ready to knock someone's helmet off. And then when I carry the football, you think you can catch me, and you cannot. I'm not sitting here trying to brag or saying 'Pay attention to me' but I'm tired of getting labeled as a slow, white kid playing out of position."
Vinopal's success at Mooney bodes well for his future also. This is the same school that produced linebacker Taylor Hill (Michigan, 2008), safety Dan McCarthy (Notre Dame, 2008), linebacker Mike Zordich (Penn State, 2008), tailback Brandon Beachum (Penn State, 2008) and tailback Braylon Heard (Nebraska, 2010).
"I've had great coaching and they've prepared me mentally," Vinopal said. "I recognize formations. I know what route combinations are coming. A big part of my game is preparation but I'm a lot more athletic than people think.
"I play like [Philadelphia Eagle] Brian Dawkins. I like to go for the ball. But if I can't get to the ball, I will take you down.
"[New York Jet] Jim Leonhard … I met him at the Wisconsin camp last summer and I didn't believe he played in the NFL because I'm way bigger than him. I'm three inches taller and bulkier, but he's having an awesome career.
"[Indianapolis Colt] Bob Sanders … I'm a big fan of guys that people didn't believe in because they went out and proved everyone wrong."