Staff Predictions: Michigan vs. Ohio State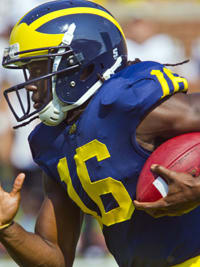 Poor Luke Fickell. He lands his first noticeable role since playing Jim in the American Pie series and the Ohio State fan base has already cast him aside in a supporting role to Urban Meyer.
There will likely be a role at OSU for Fickell, but make no mistake … it's all Urban, all the time in Columbus these days. They're so giddy they're speaking as though it's a done deal, which it might well be.
"Urban's gonna squash them skunkbears worse than even Tress, God bless his soul, ever did," we hear one Buckeye alum said before packing the Copenhagen into what was left of her lower gum before ripping tilt-a-whirl tickets from a couple of 10-year olds with Terrelle Pryor jerseys and mohawks at the Columbus carnival while flashing a three-toothed grin to their father, wearing a grease-stained "In Tress we Stil Trust with the "stil" added in black electrician's tape.
No mention of poor Jim … er, Luke, and this year's team, of course. Should they lose this year, the fan base rationalizes, it's only a one-year hiatus before Urban begins his 20-year reign of Big Ten terror over opposing teams, but especially "that school up north" (though in fairness, the thought of Meyer in Ann Arbor even has three or four of the mentally weaker Michigan message boarders curled up in the fetal position, too. Time to man up, boys).
But about this game … no guarantees, folks. It's well past time, especially now that the Buckeyes are on a level playing field - yes, Tressel's 9-1 record against Michigan was a sham, something we've known for years and the rest of the nation has discovered recently - and Brady Hoke and Co. are not the John Cooper Revue. One thing Tressel did bring, though, along with $100s stuffed in bibles and disgrace to the Big Ten, for which he was apparently rewarded a special wall of shame … er, fame in the Ohio State practice facility) was understanding of 'The Game' and what it takes to win it.
Beyond just a bunch of players that shouldn't have been eligible to play in it, of course.
Hoke seems to 'get it' too, minus the pay-for-play aspect. But the better team doesn't always win in this game. We've seen it too many times to consider a Michigan win a foregone conclusion.
That said, all the intangibles seem to be on Michigan's side. Frankly, given the garbage the Buckeyes have been getting away with for years - and we're not talking about an extra 10 minutes of stretching here and there - karma should damn well be, as well.
Congratulations to last week's winner. Most of this week's will receive absolution for some of their really crappy picks this year (you know who you are).
The picks:
Chris Balas: Ohio, Ohio State, south until you smell it, east until you step in it … whatever you want to call them, it's well past time they got theirs. Braxton Miller should be red meat to the dogs that rove the Michigan defense. That we can write that with a straight face is indicative of how far the program has come in just a year, with the promise of better days ahead.
They're coming, folks.
Michigan 21, Ohio State 13
John Borton: A lot of folks apparently think it's cute that Michigan's head coach shortens the name of the final regular-season opponent. It's not. It's disrespectful, unseemly, and dripping with the sort of discourteousness a fellow Big Ten institution doesn't deserve, especially one that's been under attack for months by the ink-stained wretches.
It simply needs to stop, and stop now.
Michigan 27, O. 17
Michael Spath: For years, the week before the Ohio State game, Michigan fans would break out into a chorus of 'Beat the Buck-eyes' but this year, it was 'Beat O-hi-o' paying tribute to head coach Brady Hoke.
Think back a year ago, and where this program was, and now where it is today. That's Brady Hoke folks, and on Saturday, he will take the final step in cementing one of the best coaching jobs in U-M history when he leads the Wolverines to a dominating victory over rival Ohio.
Michigan 28, Ohio 10
Andy Reid: This is the way the OSU reign ends. Not with a bang but a whimper.
For the last 10 years, the Buckeyes have terrorized Michigan - and the rest of the Big Ten - using shady under-dealings and morally objectionable behavior.
But when Ohio State limps into The Big House tomorrow, no one's going easy on them. Players, coaches, fans have a whole bunch of pent-up frustration that's about to boil over into a beat-down the likes of which this rivalry has rarely seen.
Michigan 35, Ohio St. 13
Tim Sullivan: After seven years of futility, it almost seems like a jinx risk to pick Michigan over Ohio State, but the fact of the matter is that the Wolverines are playing better ball at this point in the season. Greg Mattison may not have more talent at his disposal than the Buckeyes' D, but he has his players in peak form.
Michigan 28, Ohio State 17
Kevin Minor: It finally stops.
Michigan 13, Ohio 6