The A.D. Search: The Candidates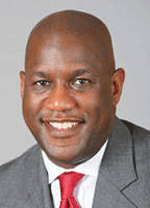 As we first reported last Thursday, Michigan has hired a search firm to find it's new athletic director. Interim A.D. Jim Hackett was always expected to be just that - interim - and now that things are in order, he's ready to pass the torch. Here's the list of candidates and what we know about them …
Turnkey Search - a subsidiary of Turnkey Sports and Entertainment - has been assisting with the search, and there will be familiar names on the list.
The five finalists the last time U-M was searching for a new A.D. (in 2010 to replace Bill Martin) were David Brandon, who eventually got the job, former U-M swimmer Joe Parker (then the deputy athletics director at Texas Tech after serving as senior associate A.D. at Michigan under Martin and Brandon), former U-M football player Brad Bates, then the A.D. at Miami (Ohio) and now at Boston College, former U-M football player and associate A.D. Warde Manuel, then at the University of Buffalo and now at the University of Connecticut, and Bob DeCarolis, then the A.D. at Oregon State.
We expect Bates, Manuel and Parker to be candidates this time around, as well, with Manuel and Bates the favorites to land the job. Here's the list of several we expect to interview for the position, along with their resumes - we do expect the next A.D. to come from this list of candidates.
Quite possibly the odds-on favorite. Manuel has made a name for himself at both Buffalo and UConn after serving as the assistant and associate director of athletics for the University of Michigan, where he oversaw the football and men's basketball programs. Manuel was named an assistant athletic director at Michigan in 1998 with responsibilities for overseeing operational facets of the university's athletic program. He was named an associate athletic director in September 2000.
UConn teams have won six NCAA national championships under Manuel's watch - the most ever by Husky squads in a three-year period. In May of 2015, in recognition of Manuel's leadership of the Huskies success academically and athletically, the National Association of Collegiate Directors of America (NACDA) named him a winner of the Under Armour AD of the Year Award.
Bates, also high on the list of possibilities, served as an associate A.D. at Vanderbilt before being hired at Miami (Ohio). There, he oversaw a program that featured the school's first back-to-back football bowl game appearances in nearly 30 years (2003-2004) and two Mid-American Conference (MAC) championships in 2003 and 2010. Under his direction, 14 of Miami's 18 teams won at least one conference championship, including football, men's and women's basketball, baseball, soccer, cross-country and field hockey.
The RedHawks men's ice hockey team won a Central Collegiate Hockey Association championship and appeared in two consecutive NCAA Frozen Fours, including the national championship game in 2009. In addition, Bates implemented retention strategies to raise student-athlete graduation rates, achieving an overall Graduation Success Rate (GSR) of 89% in 2011, while also raising private funds to upgrade Miami University's athletics facilities -including a complete renovation of Yager Football Stadium -and a new ice hockey arena and softball field.
B.C.'s men's and women's ice hockey teams both reached the 2014 NCAA Frozen Four and saw Johnny Gaudreau capture the 2014 Hobey Baker Memorial Award, the school's third. In 2015, women's hockey junior Alex Carpenter was awarded the Patty Kazmaier Memorial Award, presented annually to the top player in NCAA Division I women's ice hockey.
Boston College ranked fifth in the nation for overall Graduation Success Rate (GSR) in all sports in 2013-14. The football team's score of 92 was tied for tops in the ACC and sixth in the nation, and 12 BC sports teams received a perfect GSR score of 100.
Parker was hired at CSU in March after serving as deputy athletics director at Texas Tech of the Big 12 Conference since 2011. The three-time U-M All-America swimmer was senior associate A.D. at the University of Michigan (Big 10), the University of Oklahoma (Big 12), Washington State University (Pac-12) and the University of Texas (Big 12).
Parker, who was an All-America swimmer at Michigan, has served in the deputy role at Texas Tech since April 2011.
During Parker's time as deputy A.D. at Texas Tech he oversaw a Big 12 Conference program with 17 teams and an annual budget of $68.5 million. Under Parker's leadership in building excitement and engagement among Red Raider fans, the university achieved first-ever sellouts for football season tickets and broke attendance records in football, men's basketball and baseball. In addition, Parker has been involved in all Title IX and Gender Equity issues at Texas Tech. During his tenure as deputy A.D., Parker also led programs to boost the classroom success of student-athletes and led the development and recent launch of a current $185 million fundraising campaign.
At Michigan, highlights of Parker's eight-year tenure (2003-11) included serving on a four-person team that was responsible for more than $400 million in infrastructure improvements, including the renovation and creation of new revenue opportunities at Michigan Stadium, known as "The Big House." Parker helped secure $14 million in annual gift revenue and more than $31 million in major gifts to support the stadium renovation project, lauded as one of the premier renovation projects in the country.
Parker joined his alma mater in 2003 as associate athletics director for development and was promoted in 2006 to senior associate athletics director for development and corporate relations.
Long, the athletic director at Arkansas since 2008, began his career in college athletic administration at Michigan, hired by the late Bo Schembechler. He was promoted through a series of posts to the position of associate athletics director before going to Virginia Tech as associate A.D.
Long's first appointment as a director of athletics was at Eastern Kentucky where he served for two and a half years. He served four years as the athletic director at the University of Pittsburgh and "redefined" Pitt athletics, most notably through the "Quest for Excellence" campaign that raised nearly $34 million to enhance the student-athlete experience.
During his tenure the Panthers' were selected as the No. 17 overall program in the nation in the December 2006 Sports Illustrated on Campus' All-Sport Rankings. Before arriving at Pitt, Long was senior associate athletic director at Oklahoma for two and a half years overseeing external affairs for the Sooners.
Long was named as an Under Armour Athletics Director of the Year for the Football Bowl Subdivision in 2013. In 2012, he was named a finalist for the SportsBusiness Journal and SportsBusiness Daily Athletic Director of the Year. He was the first ever chairman of the College Football Playoff Selection committee.
Plonsky has worked in college athletics for 39 years, 26 at The University of Texas. She has served as UT's third women's athletics director since spring 2001. Since 1993, she has had responsibilities in marketing, communications, revenue generation and brand stewardship for Texas men's and women's athletics.
Plonsky and chief revenue officer Steve Hank are contract liaisons with Texas Athletics' multimedia rights and sponsorship sales agent IMG College. IMG College's sponsorship sales for Texas Athletics and the Frank Erwin Center rank among the highest in the nation and feature digital media, consumer and retail promotions, radio, Internet, and video.
Plonsky serves as a board member of the National Football Foundation/College Football Hall of Fame and USA Basketball and is 3rd Vice President and an Executive Committee member of the National Association of Collegiate Directors of Athletics (NACDA). Her past NCAA committee work includes service on the NCAA Committee on Academic Performance (CAP), the NCAA President's Task Force on Commercialization, and five years with the Division I Management Council (chair). She is also a former board member and president of the National Association of Collegiate Marketing Administrators (NACMA). She was a 2003 NACMA Hall of Fame inductee.
The Northwestern A.D. was approached before, but he's reportedly very happy where he is, having grown up near the school. He became Northwestern's 21st Four years into his tenure, Northwestern President Morton Schapiro elevated Phillips to the position of Vice President for Athletics & Recreation.
In February 2015, Phillips was elected to chair the new National Collegiate Athletic Association (NCAA) Division I Council, and serve as the only representative athletic director on the NCAA Division I Board of Directors, the first-ever sitting athletic director to serve on the Board. Phillips was previously selected to serve as the Big Ten Conference's representative on the Division I Council and is the immediate past president of the National Association of Collegiate Director's of Athletics (NACDA), the first Northwestern A.D. to hold the position.
During the course of his Northwestern tenure, Phillips has completed a two-year stint as the Athletic Director Chair of the Big Ten Conference, representing the league's A.D.'s on the Executive Committee of the B1G Joint Group, while simultaneously working as a member of the Rose Bowl Management Committee. He is also a current member of the NCAA Awards, Benefits, Expenses and Financial Aid Cabinet, and is serving as an athletic mentor in the NCAA Pathway Program.
The Stanford A.D. since 2012, Muir has extended two of the most unfathomable streaks in college athletics. The Cardinal captured its 21st consecutive Learfield Sports Directors' Cup, presented to the most successful intercollegiate athletic department in the nation. Stanford has also won at least one NCAA championship in each of the last 39 seasons, the longest such streak in the nation.
The 2014-15 campaign was no different, with Stanford collecting NCAA crowns in women's water polo and women's golf while also taking home the IRA National championship in women's lightweight rowing. The Cardinal's two NCAA titles were its most since also claiming two championships in 2011-12. Of Stanford's 127 championships overall, 107 are NCAA titles. Also in 2014-15, Stanford claimed its third Women's Capital One Cup in five seasons.
With Muir at the helm, Stanford was equally successful in the classroom, with 19 varsity teams receiving Division I Academic Progress Rate Public Recognition Awards from the NCAA, representing the highest total for Cardinal programs since the NCAA began tracking the data in 2004-05. Meanwhile, 27 teams earned a perfect score of 1,000 for the 2013-14 campaign while 15 programs checked in with scores of 1,000 for the multi-year rate, measuring data collected over a span of four academic years.
In 2014, Muir accepted an invitation to join the NCAA Division I Men's Basketball Committee after originally being named to the committee in 2012. The committee oversees all aspects of NCAA collegiate men's basketball at the Division I level and serves as the selection committee for the NCAA Tournament. Muir brought nearly 25 years of athletic administrative experience to The Farm from stops at Delaware, Georgetown, Notre Dame, Butler, Auburn and the
NCAA. Muir directed Delaware's athletic program from 2009-12 and also served as director of athletics at Georgetown from 2005-09.
In 2007, Muir was named to Street & Smith's SportsBusiness Journal's "Top 40 Under 40."