The improbable story of how Michigan landed 4-star OT Andrew Gentry
When it comes to stories that write themselves, the story of Andrew Gentry's recruitment did exactly that.
On Wednesday morning, news broke that Littleton (Colo.) Columbine four-star OT Andrew Gentry committed to Michigan. This news came seemingly out of nowhere considering the last time we heard Gentry's name, he was signed to Virginia.
Since June of 2020, Gentry has been spending his time as a missionary for The Church of Jesus Christ of Latter-day Saints as a Spanish-speaking missionary in Utah.
No phone. No football. No television.
Gentry is only allowed to talk to his parents on Monday mornings when they call him. In between, all they can do is exchange emails.
The former Rivals100 recruit and the country's 8th-best offensive tackle in 2020, Gentry ultimately decided on UVA due to his relationship with head coach Bronco Mendenhall.
Before Virginia, Mendenhall was at BYU ... a school that specializes in the missionary experience. While at BYU, he began recruiting Gentry in the 8th grade. After taking the UVA job, he brought his experiences in recruiting missionaries to Virginia and immediately focused on Gentry with the promise to allow him to take his mission trip.
On top of Virginia, the four-star recruit listed BYU, Michigan and Stanford as his top four schools.
Ultimately, Gentry decided on the Cavaliers.
"Michigan was second for him, and they were really close," Todd Gentry, Andrew's father, told The Maize & Blue Review in an interview on Wednesday. "Bronco understood his faith and his mission."
Nearly two years removed from Gentry signing his Letter of Intent, Mendenhall resigned from his position at Virginia.
Gentry, of course, had no idea. He had no way of knowing until he got the Monday morning call from his parents. But Gentry's dedication to his mission is his top priority. In an effort to limit distractions for their son, his parents opted not to spend their regular Monday morning call breaking this shocking news to him.
Instead, they emailed him later in the week, gave him a few days to think on it, and let him know that on Monday they would discuss the news at-large.
In the meantime, Gentry's father would spend his time taking care of his recruitment and its communication since Andrew had no way of doing it himself.
"Before we talked to Andrew, my wife and I felt that we should reach out to both Michigan and BYU," he said. "I initiated the contact with Coach Harbaugh and BYU's staff. I told them we haven't spoken to Andrew yet. Please let us communicate to Andrew, because he's a missionary and that's his commitment. It's a two year commitment and for two years, he wanted to dedicate himself to serving the lord, and that's what he's doing."
There was no shortage of interest from either staff. A 6-foot-8 tackle with his glowing resume is going to be welcomed with open arms by any program. So the two school's staffs obliged, then waited.
Following the email, Gentry went to his mission president who advised him to have everything in place before he went home after his mission. He wanted Gentry to return home and be able to hit the ground rolling.
When Monday morning came, so did the weekly phone call with his parents that on this particular Monday was a conversation about his recruitment.
"He took some time ... prayed and reflected on his visits to Michigan ... they were his second pick and came really close," Todd Gentry said. "And on Monday morning, it was evident he wanted to go to Michigan."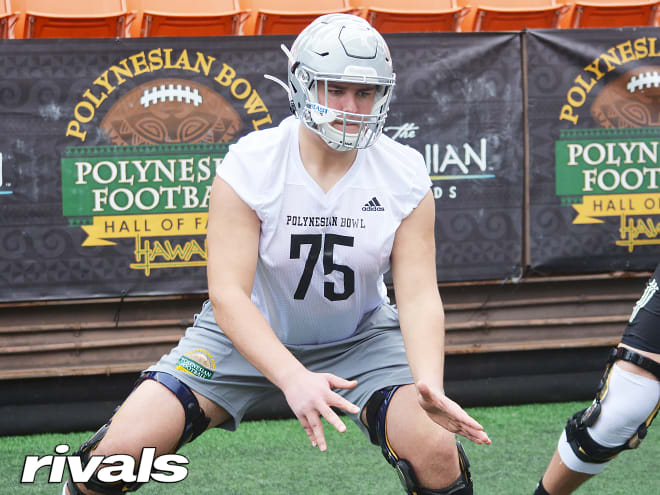 But it wasn't over yet. Gentry still had to let Michigan know he was going to be a Wolverine.
In a typical recruitment, the player picks up the phone and calls the school he's committing to, and oftentimes calls the schools who recruited him letting him know of his pledge elsewhere.
But folks, this is anything but your typical recruitment.
While visiting a three-star TE commit, Colston Loveland, in Idaho for an in-home visit, Michigan head coach Jim Harbaugh made his way to Utah to meet a certain 6-foot-8 Spanish-speaking missionary for lunch.
"Andrew spent an hour at a chapel with the assistants, Coach (Sherrone) Moore and Coach (Shaun) Nua, who is also of our faith, then spent lunch with Coach Harbaugh & Coach Nua," Gentry's father said. "It took two hours of face time. He shook their hand, and committed to Michigan."
Harbaugh then called Gentry's father.
"He shook our hand, committed to Michigan, then walked out the door and was back to being a missionary as soon as he got to the parking lot," Harbaugh told him.
"And we haven't spoken to Andrew since," his father said. "But the timing is amazing ... it's perfect."
Gentry finishes his mission trip in May. He will return home to Colorado and spend time with his family while focusing on his training before heading to Ann Arbor in either the summer or fall.
---
Not a subscriber to The Maize and Blue Review? Sign up today!
Discuss this article on our premium message boards
Follow our staff on Twitter @MaizeBlueReview, @JoshHenschke, @AESchnepp, @BrandonJustice_, @DanielDash_, @DennisFithian, @StephenToski, @TannerWutang, @Baird_CJ, @ZachLibby
Subscribe to our podcast on Apple Podcasts, Google Podcasts and Spotify
Subscribe to The Maize and Blue Review on YouTube!
Like The Maize and Blue Review on Facebook!