Tuesday Thoughts: Remembering Charles Drake, others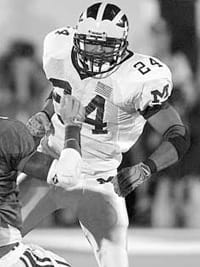 The Michigan football family lost another member in safety Charles Drake, whose July 6 passing comes on the heels of 1940s great Bob Chappuis' death at 89 years old. Drake was only 30, making his passing all the more tragic.
You get to know players and their personalities when you cover a team, especially those who play as much as Drake did in the early 2000s. He was an honorable mention All-Big Ten safety who came in as one of the most heralded recruits in the 1999 class, a prep All-American safety and running back who did it all at Los Angeles Westchester.
In speaking with colleagues, though, many agree - there aren't many memories of Drake in front of a microphone. He wasn't the first guy they would bring to press conferences and never one to seek attention - teammates and others say that's because he was always a team guy who never complained when the coaches moved him to safety from running back, played special teams as though the game would be determined by how well he performed and just wanted to 'win for Michigan.'
As friends and family posted in the
comments section
of a local article announcing his death, Drake was a gifted athlete ("one of the most gifted I've ever coached," a former coach noted), a "leader, a father and a blessing to us all."
He will be missed, just as those are who preceded him in death.
That list grows each year - such is life - but in looking over our list of Where Are They Now? subjects from the past 15 years, it still amazes at how many have been lost. Our very first subject (Feb. 2), 80s safety Vada Murray, succumbed to cancer in 2011 after a valiant fight. He was a respected Ann Arbor police officer.
Former 1980s All-American center John Vitale, our third subject, was battling spinal cord cancer and in remission when we spoke to him in late February 1998. His bravery and determination in facing the disease was remarkable. In fact, when informed his illness had returned with a vengeance (and spread to his brain) a few years later and that his days were numbered, he simply sighed and said, 'well - this sucks' - the only negative words anyone heard him say.
The community center at Wolverine Human Services in southeast Michigan, where Vitale worked and made an impact with several kids in need of emergency shelter care was renamed the John Vitale Community Center after his passing.
Former 1970s quarterback Tom Slade, a local dentist lost to leukemia in 2006 (just weeks before Bo Schembechler passed), spoke honestly of the disappointment of losing his job to Dennis Franklin in 1972 after leading U-M to an undefeated regular season in 1971, but also of his admiration for both Franklin and Schembechler. He was a consummate team guy.
Speaking with civil rights and community leader Dr. Julius Franks (passed away in Nov. 2008), Michigan's first African-American All-American in football, and the esteemed Lowell Perry (Jan. 2001) were career highlights, and an honor. And at the risk of turning this into a Joe Falls column, eating banana bread in All-American Alvin Wistert's kitchen remains an unforgettable memory. He was in his element when we saw him in South Bend, Ind. at the College Football Hall of Fame a few years later. A 1973 inductee, he was on hand to welcome Wolverines Dan Dierdorf and Forest Evashevski into the Hall, proud to be in their company.
Mr. Wistert passed away in 2005 at the age of 89. His older brother, Albert, is now 91 years old, the last of three brothers whose No. 11 was retired.
Dave Brown, Cecil Pryor, Dan Jilek, Garvie Craw, John Ghindia Sr., - the list goes on. There are several others, of course, and it's inevitable that the list will grow. Their legacies, however, won't be forgotten.