Under The Lights: Previewing The Weekend Games For Michigan Commits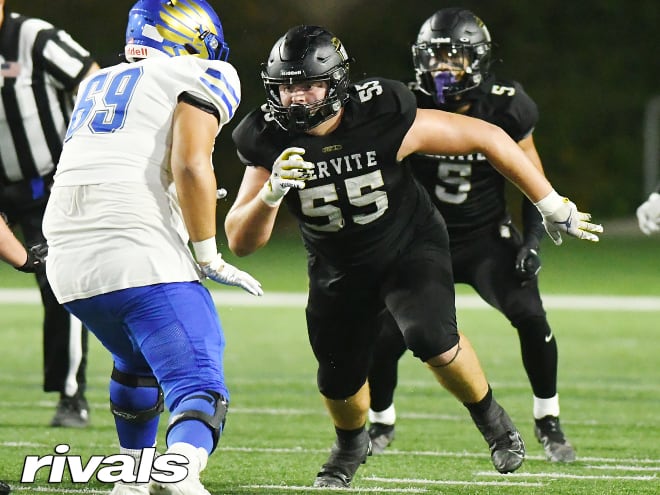 The Wolverine On The Road
The Wolverine's EJ Holland will make a pair of stops this weekend on the recruiting trail. Holland will make his way to see three-star tight end commit Colston Loveland and Gooding (Idaho) HS take on Kimberly on Friday night. On Saturday, he will travel to California to watch defensive tackle Mason Graham and Servite play Mater Dei HS.
Three Players To Watch This Weekend
Running back CJ Stokes had 138 yards and three touchdowns last week, which has earned him a spotlight here. How he is able to follow that up will be something to watch this weekend as he takes on a 1-5 Cardinal Newman squad.
Defensive end Kevonté Henry also gets the nod as one of our featured commits this week as his team takes on 7-0 Inglewood on Friday night. Henry has been productive and disruptive this season and it is easy to see why he appeals to Michigan's staff.
Last but not least, defensive back Damani Dent gets a magnifying glass on him this week as Michigan's newest commitment. He has 45 total tackles, three interceptions, four passes defended this season. Friday night's game pits 5-3 Parker HS against 5-2 University Christian.

Full Schedule For Michigan Wolverines Football Commits
QB Jayden Denegal, Apple Valley (Calif.) High — at Oak Hills (Calif.) High on Friday, Oct. 22
TE Colston Loveland, Gooding (Idaho) High — at Kimberly (Idaho) HS on Friday, Oct. 22
LB Aaron Alexander, Belleville (Mich.) High — vs. Hartland (Mich.) on Friday, Oct. 22
DT Mason Graham, Anaheim (Calif.) Servite — at Mater Dei (Calif.) on Saturday, Oct. 23
DT Kenneth Grant, Merrillville (Ind.) High — bye week, then vs. Crown Point (Ind.) on Friday, Oct. 29
DE Kevonté Henry, Lawndale (Calif.) Leuzinger — vs. Inglewood (Calif.) on Friday, Oct. 22
DB Will Johnson, Grosse Pointe (Mich.) South — vs. Grosse Pointe (Mich.) North on Friday, Oct. 22
OL Connor Jones, Monument (Colo.) Palmer Ridge — vs. Heritage (Colo.) on Friday, Oct. 22
DB Kody Jones, Germantown (Tenn.) High —vs. White Station (Tenn.) on Friday, Oct. 22
TE Marlin Klein, Rabun Gap (Ga.) Nacoochee — at Providence Day (N.C.) on Friday, Oct. 22
WR Tyler Morris, LaGrange Park (Ill.) Nazareth Academy — vs. Benet Academy (Ill.) on Friday, Oct. 22
CB Myles Pollard, Brentwood (Tenn.) Ravenwood — vs. Pope John Paul II (Tenn.) on Friday, Oct. 22
LB Deuce Spurlock, Huntsville (Ala.) Madison Academy — vs. St. John Paul II (Ala.) on Friday, Oct. 22
RB CJ Stokes, Columbia (S.C.) Hammond School — at Cardinal Newman (S.C.) on Friday, Oct. 22
OL Alessandro Lorenzetti, Windsor (Conn.) Chaffee — at Trinity Pauling (N.Y.) on Saturday, Oct. 23
LB Micah Pollard, Jacksonville (Fla.) Bartram Trail — at Oak Leaf (Fl.) HS on Friday, Oct. 22
WR Tay'Shawn Trent, Harper Woods (Mich.) High — at Ecorse (Mich.) HS on Friday, Oct. 22
DB Damani Dent, Terry Parker (Fla.) High – vs. University Christian (Fla.) on Friday, Oct. 22