Visitors List: Barbecue at the Big House Sunday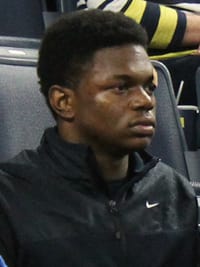 Day One of Michigan's newly expanded Barbecue is in the books, and Saturday was not without fireworks. Is Michigan in line for more good news with the main event this afternoon?
Lattimore is a new addition to the list, and he'll be making the trip with teammates Erick Smith and Trevon Story (a 2015 receiver). The 6-0, 185-pound Lattimore plays both ways for Glenville, but his highest upside is on defense, and that's the position he prefers.
McDowell is the top prospect in the state of Michigan according to Rivals.com. At 6-6, 305 pounds, he could play inside or outside on the defensive line. Michigan has been his favorite, but he plans to visit out-of-region schools before making a college decision.
Smith is not as highly regarded as teammate Marshon Lattimore, but he's an excellent prospect in his own right. The 6-1, 180-pounder is physical in coverage, but doesn't sacrifice athleticism for that power in his game.
The 6-4, 255-pound Alabi played defensive end for Cass Tech as a sophomore, but will play mostly along the offensive line this fall. He says that most schools are still recruiting him on defense, including Michigan. The Wolverines were the first school to offer, and should remain in good position.
Baker's previous visits to Michigan have been scuttled due to changes in his plans, but the offered junior plans to finally make it to town - and pick up the offer that he's received in person. He is a top-10 player in Ohio next year, and this will be his first chance to experience U-M.
Michigan was the first school to offer the 6-2, 190-pound Cole, who could be the state's top prospect in 2015 (though there is a crowded field at the top). He has made multiple visits to both Michigan and Michigan State, who are the prime contenders very early in his recruiting process. He's a multi-skilled athlete capable of playing wide receiver or defensive back at the next level.
Crawford visited Notre Dame Friday, and was in Ann Arbor yesterday afternoon before heading to Detroit to spend some time with family. He'll be back at U-M for the main show today, and get yet another chance to experience his childhood favorite.
The 6-6, 215-pound Edwards is a high school quarterback, but has enough athleticism to play other positions in college, most likely tight end. He holds early offers from Illinois, Indiana, and Vanderbilt, and will make his first trip to Ann Arbor to see what the Maize and Blue are all about.
The 6-2, 225-pound Hilliard is likely the state of Ohio's top recruit in the 2015 class, at least in the early going. He camped at Michigan and earned his offer after just one day performing in front of the U-M coaches. His older brother C.J. is a 2014 running back commitment for Iowa, but Justin is open when it comes to his recruiting process.
Michigan was the first bigtime prospect to offer Jenkins, and the Wolverines pulled the trigger within a couple days of his impressive performance at the Pittsburgh Rivals Camp Series event. The 6-8, 295-pounder showed some rough edges to his game at the Rivals Five-Star Challenge in June, but he has plenty of time to develop, and he has size that just can't be taught. Michigan is in good shape in his recruitment, with Penn State and Pitt joining the Wolverines in his top three.
Kinnel had previously stated that he'd be a Saturday visitor to Ann Arbor... but he didn't make the trip. Did the rising junior simply mix up his dates, or is he no longer planning to visit U-M this weekend? We'll find out soon.
Michigan was the first out-of-region offer for Masina, though several heavy hitters have followed through since. The 6-4, 210-pounder is an exceptional athlete who would likely play outside linebacker should he opt to come to Michigan. Masina visited Notre Dame Friday, and saw a preview of Michigan yesterday leading into today's Barbecue. He will see Wisconsin Monday before heading back to the Beehive State.
Story will see Ann Arbor along with his older teammates Marshon Lattimore and Erick Smith. The 5-8, 162-pounder is a slot receiver, but a very good one who is explosive with the ball in his hands.
Thompson is a bit of a tweener, a 6-0, 205-pound prospect who could play strong safety or weakside linebacker in college. He's the son of former Michigan defensive back Clarence Thompson, who will accompany him on the trip. Though he doesn't have an offer yet, it's obvious which school the younger Thompson grew up loving.
Weber is one of the competitors to be the top in-state prospect in 2015. The 5-11, 210-pounder missed the first half of his season as a sophomore… and still rushed for over 1,700 yards and 21 touchdowns. He's a speedster who should be even more successful this fall, adding a physical edge to his game. U-M is the leader, with Ohio State, Michigan State, and Notre Dame among the others in the mix.
2016 ProspectsThe main event for 2016 prospects took place yesterday, but a current commit's younger brother and the younger teammate of a couple others will be in town.
St. Clairsville (Ohio) linebacker Brendan Ferns
The younger brother of 2014's ringleader is not feeling the urge to walk in Michael's footsteps - he's still a big Buckeyes fan. Still, Brendan is a developing linebacker who got a bit of time for the St.C defense as a freshman, and has sprouted up this offseason to be taller than his brother. He could be one of the top 2016 linebackers in Ohio if he has Michael's work ethic.
Though two Eastern Christian Academy prospects (Canteen and Watson) earned offers at and committed shortly after U-M's 2013 summer camp, their rising sophomore teammate Dele' Harding may have been the most impressive prospect from the Maryland powerhouse. Already 6-1, 211 pounds, he was physical and smooth from the LB position. He took in the town with his teammates yesterday, and will participate in the BBQ today.
The 6-4, 200-pound Campbell is a future five-star, and gave U-M's 2015 class top-flight talent early in the process.
Stay tuned this afternoon for updates from the visitors, including stories from the final few from yesterday's event, who were delayed by Campbell's commitment.