Weekly Recruiting Wrap: Garden State of mind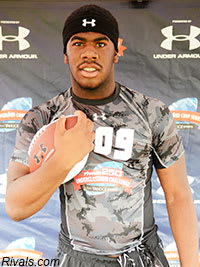 Michigan's coaches is making bigtime inroads in the state of New Jersey (and across the Mid-Atlantic region), and surely the staff will be paying close attention to the Rivals Camp Series stop in the Garden State this weekend.
More than a dozen players with Michigan offers - and many more who could receive that honor down the road - will participate at Piscataway (N.J.) High School, and the on-field action should be plenty intriguing. The recruiting news to flow out before the competition itself will be just as exciting for Wolverine fans to follow.
For Michigan fans, the next phases of his recruitment should be just as interesting. Gary visited Ann Arbor in the spring, and is tentatively planning a return to campus for the coming months. His former head coach at Paramus Catholic, Chris Partridge, is now a recruiting staffer in Ann Arbor, which should help.
If Gary has firmed up plans for his U-M return, Michigan fans can start to get excited about the possibility of reeling in a five-star defensive lineman.
Recent offersSeveral prospects will hit the field for the first time since picking up an offer from the Maize and Blue.
West Hartford (Conn.) Kingswood Oxford • 6-1, 212 pounds
Four-star, No. 6 inside linebacker and No. 186 overall prospect nationally
Quansah picked up a Michigan offer in mid-February, and has expressed interest in visiting since, but hasn't yet had the opportunity. He'll have the chance to show what it is that college coaches like about him (Iowa, North Carolina, Pitt, and Wisconsin are among his other options) by competing with better competition than he usually sees in Connecticut.
Paramus (N.J.) Catholic • 6-4, 180 pounds
Two-star, No. 31 prospect in New Jersey
Stewart played his first season at Paramus Catholic this fall under Partridge, after heading over from Seton Hall Prep where he played as a sophomore. He put up big numbers, but has to show the physical development to move up the rankings. He has the size - and is developing good speed - to be a three-star prospect or better, and proving he can get open in one-on-one will help him.
Philadelphia St. Joseph's Prep • 5-10, 201 pounds
Four-star, 6.0
Swift is one of the most exciting players in attendance, as evidenced by his early offer list: Alabama, Penn State, Tennessee, and Virginia Tech were in the mix before Michigan hopped in earlier this week. The high school teammate of 2015 signee Jon Runyan Jr. is an electric prospect who has built up his mass to add power to his game, and should have the chance to impress in competition.
Paramus (N.J.) Catholic • 6-3, 268 pounds
Unranked
Bolds picked up a Michigan offer when he visited campus along with Gary, with the Wolverines joining Boston College and Rutgers on the list. If U-M is building a pipeline to Paramus Catholic, Bolds would certainly be a piece of that. Despite his size, he has burst off the edge and could be a standup pass rusher, or grow into a three-technique tackle.
Paramus (N.J.) Catholic • 6-2, 210
Unranked
Singleton picked up his Michigan offer Wednesday along with Stewart. He's been hyped for a couple years as one of the next great players out of Northern New Jersey's most talented program of recent vintage. If he shows out on the field, expect the competition for his services (currently just Rutgers and Boston College) to increase.
Black is a 6-2, 184-pounder already ranked as a four-star prospect - and already holding offers from a number of East Coast schools. If he manages to dominate the competition in the manner that his physical tools should allow him to, expect many coaches to get word, including Harbaugh. While an offer shortly after the camp isn't a guarantee, if Black lives up to the early hype, it could happen.
Michigan has put effort into recruiting the East Coast, and Black projects as one of the region's best players. Testing himself against competition outside of Connecticut preps schools is a chance to prove he's worthy of bigtime offers.
If Petrula impresses against some of the best talent in the Northeast - including challenging reps against Gary - he should shoot up the board of many programs, including Michigan's.
Keep your browser pointed in this direction all weekend for dozens of updates from prospects at the New Jersey camp, along with video and plenty of analysis.

Share this story: