Assessing The NBA Draft Stock Of Michigan's Franz Wagner And Isaiah Livers
Michigan Wolverines basketball sophomore wing Franz Wagner and senior forward Isaiah Livers have decisions to make. Both have the option to either return to school next year or enter the 2021 NBA Draft. Wagner has three more years of eligibility remaining, while Livers has one, since the NCAA deemed the 2020-21 season a 'free year' due to its unique nature amid the COVID-19 pandemic.
Below, we take a look at seven different mock NBA drafts and where each has Wagner and/or Livers being chosen. Then, we assess the stock of each with our takeaways and dive deep into the decisions they are tasked with making, and the implications of their choice.
RELATED: What Juwan Howard Will Remember Most About Michigan's Banner Season
RELATED: Juwan Howard's No. 1 Class, & The Current Landscape Of Big Ten Recruiting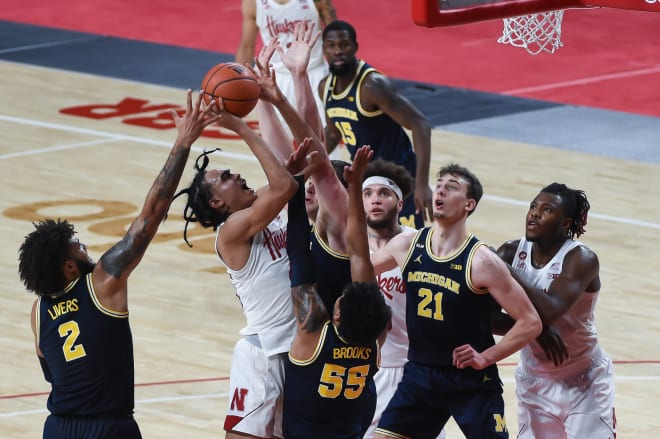 Before we dive into some of the projections, here are a few quick reminders and key dates pertaining to the NBA Draft:
• The deadline to declare for the 2021 NBA Draft is May 30 at 11:59 p.m. ET.
• The 2021 Draft Lottery is June 22.
• The draft combine is set for June 21-27.
• The deadline to withdraw from the draft is July 19 at 5 p.m. ET.
• The date for the 2021 NBA Draft is July 29.
Where Franz Wagner And Isaiah Livers Check In On 2021 Mock NBA Drafts
Franz Wagner: First round, No. 19 overall to the Oklahoma City Thunder
"Wagner can score, rebound and he's developing as a secondary distributor," Ham wrote. "He has a quick release and a clean stroke from long range, although his numbers don't jump off the page. A high basketball IQ player, Wagner moves well without the ball and isn't afraid to take the big shot. He has good size for an NBA wing, although he is an average athlete at best.
"OKC is accumulating young talent and that means taking the best available player, regardless of position. Wagner might not be a star, but he has the potential to stick around the league for a while as a solid role player."
*Ham only projected the first round
• Jonathan Wasserman, Bleacher Report
Franz Wagner: First round, No. 11 to the Indiana Pacers
"A rough game against UCLA won't negate Wagner's strong season or versatility suited for an NBA lineup," Wasserman opined. "At 6'9", he works as a ball-screen playmaker with three-point range. And his defensive mobility and anticipation this year became a major plus, both for Michigan (No. 3 in DBPM) and his scouting profile."
Isaiah Livers: Second round, No. 49 to the Detroit Pistons
"Livers missed the NCAA tournament with a foot injury, but career shooting percentages of 41.2 percent from three and 85.6 percent from the line, plus plenty of consistency and clutch plays, will lead to second-round suitors," Wasserman wrote.

Franz Wagner: First round, No. 11 to the Indiana Pacers
"For a team that is rarely in the NBA Draft Lottery, the Indiana Pacers need to make the most of their selection," the publication wrote. "Trading up a few spots to add a more dynamic talent would likely be the best course of action, but assuming they remain where they end up, adding shooting and playmaking in the form of Franz Wagner would not be a bad choice whatsoever."
*This was a one-round mock draft
Franz Wagner: First round, No. 11 to the Indiana Pacers
Isaiah Livers: Second round, No. 60 to the Indiana Pacers
Franz Wagner: First round, No. 10 to the Sacramento Kings
Isaiah Livers: Second round, No. 49 to the Toronto Raptors
Franz Wagner: First round, No. 16 to the New York Knicks
"Franz is a smooth forward who can space the floor, pass the rock and guard multiple positions," the publication wrote. "He's got a great feel for the game and is highly efficient with his touches."
Isaiah Livers: Undrafted — listed as the No. 73 prospect in the draft class (there are 60 picks)
"A do-it-all forward who projects as a glue guy at the next level," the mock draft said. "A great outside shooter who is very efficient with his touches."

Takeaways From Franz Wagner And Isaiah Livers Projections
• We'll start with Wagner, who is essentially a lock to leave to the NBA at this point. It's not often that a prospect is projected to be a lottery pick but decides to come back to school. However, he could pull a stunner and decide to return, given he and his family's love for Michigan.
The German was the Wolverines' third leading scorer this season with 12.5 points per game, while also adding 6.5 rebounds and three assists per contest. He was also third in the country in defensive box plus/minus (6.1) and was extremely disruptive as an on-ball wing defender and help-side defender. He notched 1.3 steals and one block per outing, showing he can use his long wingspan to his advantage.
The knock on Wagner would be inconsistency. He dominated in some games — against Florida State in the Sweet 16, for example — but was quiet and less effective in others (see: his 1-of-10 shooting night against UCLA in the Elite Eight). It is important to note, however, that the NBA largely drafts on potential, and Wagner's skills and athleticism are at a high level, especially for a 19-year-old.
In all but one of the projections above, Wagner is slated to be taken in the top 16 of this July's draft. He is seen as the second-best small forward in the class by some, and is viewed as at least a top-five player at his position by all.
• For some context when taking a look at the upcoming decision that Wagner has to make, we'll use his most common projection — No. 11 overall — and compare that to last year's draft.
Out of Florida State, 6-foot-5 wing Devin Vassell was selected No. 11 overall to the San Antonio Spurs in the 2020 NBA Draft. He is set to make over $8.2M of guaranteed money in his first two years of the league, before the Spurs have a team option to keep his contract going for two more years — in which case he'll make over $18.5M in his first four seasons in the association.
• Livers' decision is much more complicated. The Kalamazoo, Mich., native flirted with the NBA last season before ultimately choosing to return to school. He is highly unlikely to utilize the NCAA's free year but nonetheless has the chance to do so.
Whether or not he gets drafted becomes the biggest question surrounding Livers, who just underwent successful surgery on his right foot after suffering a stress injury to it late in the season. His recovery time is six months, meaning he won't be able to participate in the combine in June or any individual pre-draft workouts. For a player who has dealt with numerous injuries throughout his career, most notably over the last two seasons, missing those workouts is significant.
Livers is a 'three and d' guy at the next level, with the sharpshooter having connected on 43.1 percent of his three-point attempts (50-for-116) this past season and 41.2 percent of his looks for deep over the course of his four-year career.
The above mock drafts largely agree that he will be picked in the second round, but keep in mind that they were released just before Livers' surgery was announced. He is seen as a future NBA player on the surface, but the pre-draft process is important for projected second-round picks. He will still have the chance to impress front offices in interview settings and continue to build the relationships he was able to forge while going through the process virtually last year. This is an area in which Livers will likely excel.