Best And Worst From Michigan's Thrilling Win At Nebraska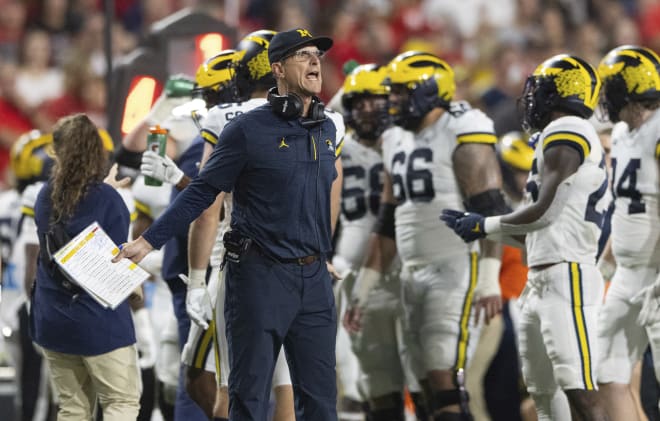 Most Valuable Player
Junior kicker Jake Moody has been steady most of his career, minus a few ups and downs. And when the Wolverines needed him Saturday night, he came through, silencing a rowdy Nebraska crowd time after time. Moody made kicks from 35, 21, 31 and 39 yards out, with the 39-yarder serving as the game-winner with 1:24 to go.
The Maize and Blue offense did a lot of good in this game, continually moving the ball down the field, but without the big plays to punch it in the end zone, they wouldn't have been able to cash in if it weren't for Moody's leg.
Moody is now 12 of 13 kicking for the season and 25 of 33 for his career.
Best Effort
Nebraska junior quarterback Adrian Martinez was close to being called down due to forward progress after picking up the first down with just under two minutes to play, but Michigan fifth-year senior safety Brad Hawkins dislodged the ball and recovered the fumble all in one motion.
Before that, the Nebraska fans were awaiting another successful offensive drive, based on how the game was going, and Michigan fans were bracing themselves for the seemingly inevitable. In a second half where the Wolverines had a tough time stopping the Nebraska offense, the play served as a huge boost and, most importantly, got them the ball back in field goal range. Moody did the rest.
Top Nebraska Player
Martinez got off to a quiet start, and he had no help from his coaching staff that employed a conservative first-half game plan, but he heated up as the game went on. It didn't hurt that the Wolverines had some blown coverages, but Martinez went 18-of-28 passing for 291 yards and three touchdowns, while also adding 38 rushing yards and a score.
The difference in the game was his two mistakes — an interception and late-game fumble — but he was a huge reason why the Huskers were in it at all.
Best Catch
The best reception of the night goes to sophomore wideout Mike Sainristil, who has had a quiet season to this point but made a pair of big plays against Nebraska, including a diving catch over the middle for a 48-yard chunk play. Redshirt freshman quarterback Cade McNamara's ball was just a bit overthrown, but Sainristil helped his signal-caller out with the all-out effort play.
Take a look at this close-up angle of Sainristil's grab.
Best Concentration
Michigan sophomore safety Daxton Hill broke up a pass in the middle of the field and hit the ground hard after doing so, but kept tracking the ball and then came up with a catch to intercept Martinez. The play reminded us of Julian Edelman in the New England Patriots' Super Bowl LI victory over the Atlanta Falcons.
The Nebraska faithful inside the stadium were sure Hill didn't come down with the ball before it hit the ground, but the replay on the in-stadium video board quieted the fans down as they saw just how outstanding a play it was in the early second quarter.
Best Hops
Michigan redshirt sophomore running back Hassan Haskins has hurdled defenders in the past, usually gaining an extra yard, but this one was different. While the defender was crouched down to try to make the tackle, Haskins got as high as we've seen him jump — and even more impressive than that was his ability to regain his stride and keep going for another 25 yards.
The play went for a total of 50 yards, and was important for a Michigan offense that didn't produce a lot of explosive plays and needed to put a big drive together late in the game. That helped set up a game-tying field goal and put the Wolverines in position to win.
Oddest Calls
We got to hear quite a bit from the officiating crew, with all the booth reviews and the 12 penalties for the game, which brought out some unique calls that not many had heard before.
Nebraska was called for "disconcerting signals," since its defenders were clapping to imitate Michigan's cadence. We also had a "joint possession" call after Michigan second-year freshman A.J. Henning muffed a punt and was tied up with a Nebraska player, much like a jump ball in basketball. The ball was awarded to the receiving team.
Most Hype About The Win
Perhaps nobody was more hype about the Wolverines' victory than junior defensive end Aidan Hutchinson, who shared a moment with head coach Jim Harbaugh, which was caught by the cameras. The Wolverines are 6-0 and have a bye week coming up. Then they play lousy Northwestern in a tune-up game before a rivalry matchup at Michigan State, who is currently 6-0. The schedule has shaped up beautifully to this point.
"I'm just going to enjoy the incredible [win]," Harbaugh said. "That was awesome. It's going to be a happy flight; I can tell you that."
Offensive line coach / co-offensive coordinator Sherrone Moore, who's forever animated on the sideline, takes home our 'most-hyped assistant coach' award.
Most Electric Moment During The Game
The most electric moment during the game can be credited to the entire Michigan team. One week after dancing to Wisconsin's playing of 'Jump Around,' the Wolverines brought the energy for Nebraska's rendition of 'Thunderstruck.'
We'd never seen the lights go out during a game, other than for a halftime performance, but it made for an awesome display, one Michigan had some fun with.
Redshirt freshman defensive tackle Mazi Smith had a great explanation for why the Wolverines continue to get hype ahead of the fourth quarter on the road and turn the opposing team's music into their own.
"You've got to just keep that same energy," Smith said. "Everybody says, 'Everybody's got a plan until you get punched in the mouth,' but when we get punched we've still got that plan. There was still another quarter to play."

Worst Decision
While it's understandable that Harbaugh wanted to go up 21-7 after a late-third quarter touchdown, there was too much time left to make the call to go for two points.
Running a fade route to sophomore wide receiver Cornelius Johnson also didn't seem like the right call, with the pass being broken up and the Wolverines holding a 19-7 lead.
Best Update
Michigan had three offensive players — second-year freshman wide receiver Roman Wilson, second-year freshman right guard Zak Zinter and redshirt freshman left guard Trevor Keegan — who were injured coming into the game. Wilson did not play, while Zinter and Keegan played some but were limited.
Harbaugh said following the contest that none of their ailments appear to be long term, mentioning that the upcoming bye week should be just what the doctor ordered.
Biggest 'Difference' And Best Quotes
Michigan players have said it all season long, especially after wins — this team is 'different.' It was McNamara who gave the quote to ABC's Molly McGrath, then repeated the phrase in the postgame press conference.
"Overall, this team has decided to be different this year, and it's not as much what you see football-wise, it's the atmosphere that we've created and the mindset that we've rebuilt this offseason. I think it showed today," he said.
Added McNamara, when asked to clarify: "Because we're tired of losing — it's that simple. We've lost too many games the last couple years. It's a common mindset amongst the team, that we're tired of losing. And we chose to be different."
Asked about McNamara's comments, Harbaugh agreed — this team is different than some of his past groups.
"The grit they have," Harbaugh explained. "The fight they have. The mindset of not being denied. The way they prepare, and they have fun doing it. It's in the eyes. Practice and games."