Donovan Edwards Racks Up 257 Yards, 3 TDs In State Title Game Victory
Michigan Wolverines football four-star running back signee Donovan Edwards and his West Bloomfield squad won a state championship today, taking down Davison, 41-0, at Ford Field in Detroit.
Edwards, who is rated as the No. 74 overall player in the entire country and inked with U-M this past December, unsurprisingly stole the show. He finished with 257 yards and three touchdowns on just 14 carries, averaging 18.4 yards per attempt.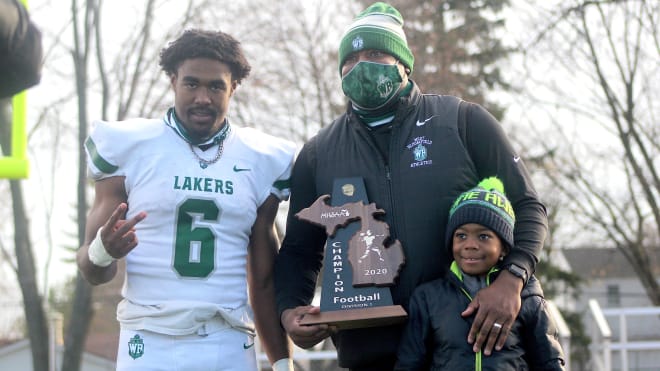 Edwards got the action started early in this one, taking a direct snap from West Bloomfield's 22-yard line at the 7:09 mark of the first quarter and taking it 78 yards to the house to put his squad up 7-0.
He was never touched on the play, and showed tremendous speed to outrun the entire Davison defense. The early score was a sign of things to come for both Edwards and West Bloomfield.
The Lakers went up 10-0 on a 39-yard field goal at the 8:18 mark of the second quarter, before Edwards handed the ball off to fellow running back Mekhi Elam with 6:32 left in the first half, with the latter taking it 13 yards to the house to give West Bloomfield a 17-0 lead.
That was where things stood at halftime, with Edwards having racked up 147 yards through the game's first two quarters.

West Bloomfield picked up in the second half right where it had left off, taking a Davison fumble 45 yards for a touchdown at the 10:30 mark of the third quarter to make the score 24-0.
Edwards found the end zone for the second time at 4:50 of the third frame, receiving a handoff and scampering 71 yards to pay dirt to give his Lakers a 31-0 edge. He took the ball right up the middle on the play, was once again never touched and showed elite speed to outrun the defense.
The future Wolverine had 11 carries for 230 yards and two touchdowns at that point. The capper was when he scored on a 16-yard run with 2:08 left in the third quarter, weaving through the defense and then beating his man to the outside to find the promised land.
The touchdown gave him 257 yards on 14 carries, which wound up being his final stat line. The 41-0 marked West Bloomfield's first-ever state title. It's also worth noting the Lakers are coached by Ron Bellamy, who played wide receiver at Michigan from 1999-02.
He has been the head man at West Bloomfield since 2010.
Highlights of Donovan Edwards' Performance in the State Title Game