Early Enrollee Donovan Edwards Turning Heads At Michigan Spring Practices
Michigan Wolverines football has two running backs on the roster who have produced in college. Redshirt sophomore Hassan Haskins is the most proven out of the bunch, having led the squad in rushing last season with 375 yards and six touchdowns on 61 carries. Freshman Blake Corum was able to make an impact in his first season, rushing it 26 times for 77 yards with two touchdowns, while also catching five passes for 73 yards on the year.
Michigan lost sophomore Zach Charbonnet (transfer to UCLA) this offseason, meaning there's room for another back to emerge and see some playing time. It appears — at least so far this spring — that freshman Donovan Edwards is the guy most likely to find his way into the rotation.
RELATED: Mike Hart Brings 'Spice' To U-M's RB Room, & Blake Corum Is All About It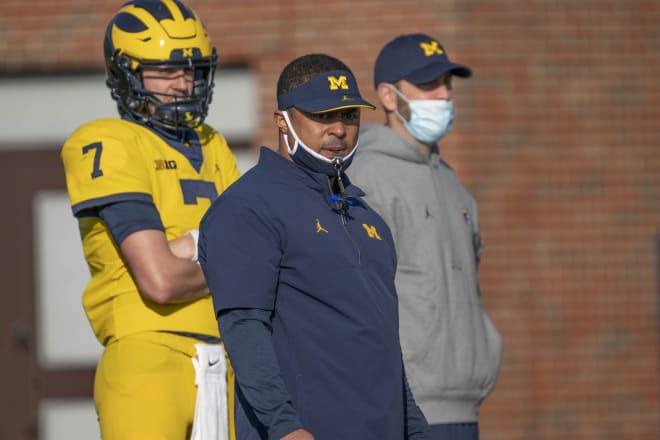 Edwards, from West Bloomfield (Mich.) High, was a high four-star recruit and Rivals.com's No. 58 player in the class of 2021 who led the Lakers to the 2020 Division 1 state championship. He enrolled early at Michigan in January and has impressed ever since, with the learning curve not being as steep for him as it is some other freshmen.
"Donovan came in right away and he got used to the game," Corum said when speaking to reporters Thursday. "Obviously, college ball is a little faster than high school ball, but I see him coming in every day working really hard getting used to all the plays and stuff, and I feel like he's definitely gonna be a really good player. I like what I see from him so far."
"Speed. Speed. Speed. Speed," said a smiling redshirt junior linebacker Josh Ross when asked what his first impressions of Edwards are. "That dude flies and is so fast. He's still learning and getting better, but he can definitely fly."
A former early enrollee himself who was then able to parlay that into early playing time as a freshman, Corum was asked what advice he would give Edwards at this point in his career.

"I would just say, be yourself," Corum explained. "You know what type of player you are, and just do you — go in there with confidence, don't think too much and just be a baller.
"The other side of the ball, I mean, they put their pants on just like we put our pants on, so i'm just balling out. That's the advice I would give."
Considering how well Edwards is playing in spring practices and that there's only two backs with experience ahead of him, it's fair to assume that Edwards will get some opportunity in the fall. Corum explained how offensive coordinator Josh Gattis finds ways to get young but talented players on the field, even if it's in a limited role before they learn all the intricacies of the offense.
"Yeah, I feel like this type of offense that Coach Gattis has put in definitely allows freshmen to get into games," Corum said. "They can ball because the way I look at it is if you can ball, you can ball — doesn't matter what it is so as long as you know your plays and you can ball, then you'll get in the game."
For now, it looks like Edwards can ball and will get in the games.
As is always the case with the running game, the blocking the ball-carriers receive is of utmost importance. Corum is confident in the aspect of things as well.
"This spring ball, a lot of guys have stood out," Corum said. "And I'll tell you one thing, our offensive line is looking really good right now. So they've definitely caught my eye.
"They attack it like they want to do some damage. The o-line is definitely putting in some work. "