Five Key Questions For Michigan Football On Penn State Week

How far can Michigan ride Cade McNamara?
Redshirt freshman quarterback Cade McNamara was the hero last Saturday night in Piscataway, coming in the game with his team down 17-0 and sparking a comeback victory in triple overtime. He didn't just provide more production from the quarterback spot than redshirt sophomore Joe Milton, but he elevated the play of the entire team and gave the Wolverines a confidence they hadn't shown since the opener at Minnesota.
McNamara's insertion certainly changes the complexion of U-M's team, but by how much, and how will that play out going forward?
The gunslinger from Nevada still has only a small sample size of on-field play, but he appears to have lifted the Wolverines' offense to a new level. U-M scored six touchdowns and attempted two field goals on the 10 drives McNamara was in charge of the offense.
There was concern heading into the Rutgers game that if U-M won, it would be its last win of the year. With three contests left in the regular season, we'll see just how good he is and what the team's ceiling is with him in the game.

When will this disturbing defensive trend end?
U-M's defense, led by coordinator Don Brown, has received plenty of criticism this season — and for good reason.
The disturbing defensive trend: U-M has allowed its opponent to post season-highs in points each of the last four games (three losses, one win).
To be fair, some things (injuries and opt outs) are out of their control, but the Wolverines should be better than the product they've put out there, considering the fact that there's talent — which Brown and head coach Jim Harbaugh recruited — still in the lineup. The poor defense is the reason that, to complete a 17-point comeback win in the game's final 35 minutes last week, McNamara and the offense had to score 48 points and go to triple overtime.
Penn State is averaging just 24.6 points per game (90th in the country) and 418 yards (49th), but it's safe to bet they'll surpass those marks this week against U-M — unless something changes.
Did Michigan find its feature running back?
Before the Indiana loss, running backs coach Jay Harbaugh said he had no plans to alter his plan of steadily rotating his four backs, which disappointed fans who saw enough out of redshirt sophomore Hassan Haskins in the first two games to say he should receive the bulk of the carries.
But ... Harbaugh did allude to the fact that he would be willing to alter his plan, if it's warranted.
"Obviously, if a guy starts to catch fire, so to speak, and we feel like he's running it really well, that guy's going to get a little bit more opportunity," Harbaugh said Nov. 2.
Well, Haskins caught fire Saturday night in Piscataway, receiving 23 carries and rushing for 111 yards and the game-winning touchdown after getting just one rush in seven snaps the week prior. The other three backs combined for 39 rushing yards on 11 attempts in the victory.
All four do have different skill sets that the Wolverines can use, but it's becoming even more clear Haskins is the No. 1 guy, and the coaching staff appears to (finally) be taking notice.
RELATED: Jim Harbaugh, Josh Gattis Talk Quarterbacks, Running Back Rotation
Will Michigan get healthier this week?
Redshirt sophomore offensive tackles Ryan Hayes and Jalen Mayfield practiced some last week but were not good enough to go Saturday against Rutgers. Fifth-year senior center Andrew Vastardis was held out with an injury, too, making the O-line even more makeshift.
The Wolverines have been a solid pass blocking team despite the injuries, grading out as the No. 32 team nationally in that respect per PFF. Run blocking has been where U-M has struggled the most (where it ranks 64th per PFF). Harbaugh even pointed out this week that the rushing success by Haskins against the Scarlet Knights had a lot to do with him "making yards where there were no yards to be made."
If Mayfield, at the least, can return Saturday, the Wolverines will add a veteran, future-NFL talent to the roster and can begin to fix the woes.
Defensively, where do we even start? U-M already lost junior end Aidan Hutchinson for the season and has been without senior end Kwity Paye for the last two-plus games. On Saturday, redshirt sophomore linebacker Cameron McGrone and senior safety Brad Hawkins both left the game early, with McGrone being carted off after suffering what looked to be a severe injury.
Redshirt junior walk-ons Adam Shibley and Hunter Reynolds performed admirably while replacing McGrone and Hawkins, respectively, but those two have the talent and experience to make their absences big losses.
With as much warranted blame as there is to go around on the coaching staff and the personnel on the field for not producing at a high level, it must be understood that this isn't the group of players anybody expected to be out there before the season began. Case in point: In the second half at Rutgers, the Scarlet Knights had the same number (one) of U-M starters from 2019 on the field (fifth-year senior defensive tackle Michael Dwumfour) as the Wolverines did (fifth-year senior defensive tackle Carlo Kemp).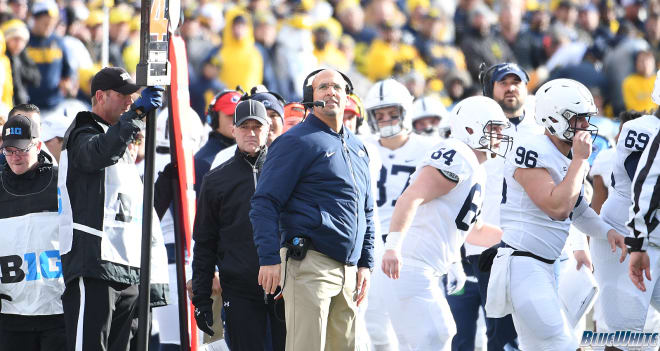 How much talent — and pride — is left for Penn State?
We asked almost the same exact question last week about the Maize and Blue. Penn State is dealing with very similar issues to U-M, with the injury blows coming by the week, along with the losses. All-American senior tight end Pat Freiermuth is just the latest to go down for the year, joining a slew of other stars.
But there's no excuses in State College, either, with head coach James Franklin, in year seven, having his team off to the worst start in program history at 0-5, while also dealing with off-the-field controversy.
The Nittany Lions can't settle on a quarterback, rotating back and forth between redshirt junior Sean Clifford and redshirt sophomore Will Levis the last two weeks. Neither signal-caller is getting any help in the run game, with the club averaging 3.4 yards per rush (104th in the land). Defensively, opt-outs and injuries have played a factor in why the Nittany Lions are giving up 36 points per game (101st nationally).
All that said, Penn State still has enough talent to come into Ann Arbor and beat U-M, if they come to play. This is likely the last shot Franklin's crew has at earning some respect this year. Like we said, the Wolverines are dealing with similar problems, some that probably weren't fixed by a win over Rutgers.