Jordan Glasgow, Michael Onwenu Shine In East-West Shrine Bowl
Five Michigan Wolverine football players took part in today's East-West Shrine Bowl in St. Petersburg, Fla. — left tackle Jon Runyan, right guard Mike Onwenu, defensive end Michael Danna and cornerback Lavert Hill all participated for the East squad, while linebacker Jordan Glasgow suited up for the West team.
The East squad came away with a 31-27 triumph.
According to Pro Football Focus (PFF), Onwenu graded out the highest of any of U-M's players, finishing with a 74.8 overall mark (64 is considered average).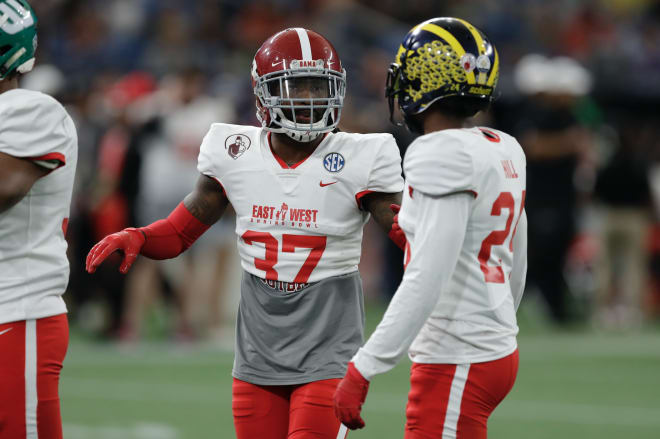 His 74.8 grade was the third highest of any of the East's offensive players, while his 50 snaps played led the team.
Runyan, meanwhile, received the second most snaps for the East offense (46), and finished the afternoon with a 65.1 tally.
Danna saw 30 snaps on the defensive side of the ball for the East, and concluded with a 65.1 overall grade from the outlet. He also chipped in half a sack toward the end of the second quarter.
Hill had the poorest showing of any of the Wolverines according to PFF, only receiving 15 snaps (the fewest of any East defensive player) and ending his day with a disappointing 51.8 mark (lowest on the East's defense).
Glasgow put on one of the best performances for the West team, wrapping things up with a 70.6 tally (fifth best on the West's defense) and a pass breakup while playing 28 snaps.
Notable Tweets Involving Michigan Players at the East-West Shrine Bowl