Michigan Football Moves Up In AP Poll Despite Bye Week
The Michigan Wolverines were idle this past weekend, but that did not stop them from moving up the latest batch of college football polls.
Michigan slid into the No. 6 spot in the AP and Coaches polls despite the bye with their record at 6-0. Other Big Ten teams in this week's AP poll include Ohio State (fifth), Penn State (seventh), Michigan State (ninth), Iowa (11th) and Purdue (25th). Iowa's slide from the second-ranked team in the country came due to a 24-7 loss to Purdue on Saturday afternoon.
The Wolverines welcome Northwestern to Ann Arbor this weekend for a noon kickoff from Michigan Stadium. The Wildcats beat Rutgers by a score of 21-7 on Saturday afternoon in Evanston.
RELATED: ESPN's FPI Updates Michigan's Projected Outlook After Bye Week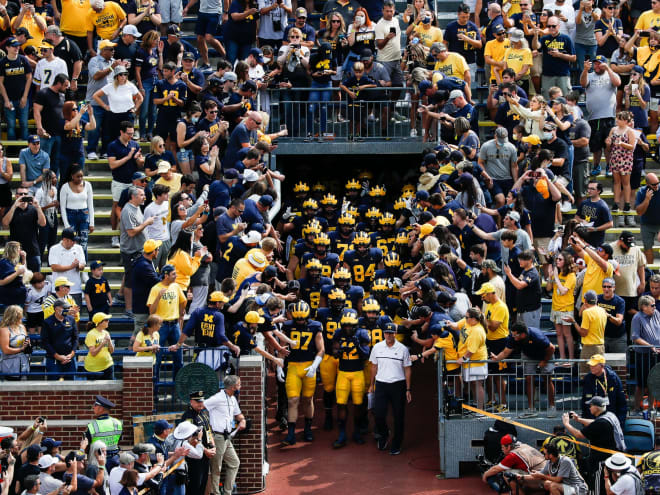 The Wolverines have a tough schedule ahead, which includes three opponents that are currently ranked — at No. 9 Michigan State (Oct. 30), at No. 7 Penn State (Nov. 13) and versus No. 5 Ohio State (Nov. 27).
Also notable is Michigan State's undefeated mark heading into its bye week. A Michigan win on Saturday would make Oct. 30's rivalry game the first top ten matchup between the two teams since the 1961 season.
Here is a look at the rest of the AP poll rankings following this weekend's games.
AP Poll – Week 8
1. Georgia
2. Cincinnati
3. Oklahoma
4. Alabama
5. Ohio State
6. Michigan
7. Penn State
8. Oklahoma State
9. Michigan State
10. Oregon
11. Iowa
12. Ole Miss
13. Notre Dame
14. Coastal Carolina
15. Kentucky
16. Wake Forest
17. Texas A&M
18. North Carolina State
19. Auburn
20. Baylor
21. SMU
22. San Diego State
23. Pittsburgh
24. UTSA
25. Purdue