Michigan Football Offers Jackson State Transfer WR Daylen Baldwin
Michigan Wolverines football continues to look for talent in the transfer portal.
The Maize and Blue's latest offer was handed out Friday afternoon to Jackson State wide receiver Daylen Baldwin, a Southfield, Mich., native who has two years of eligibility remaining.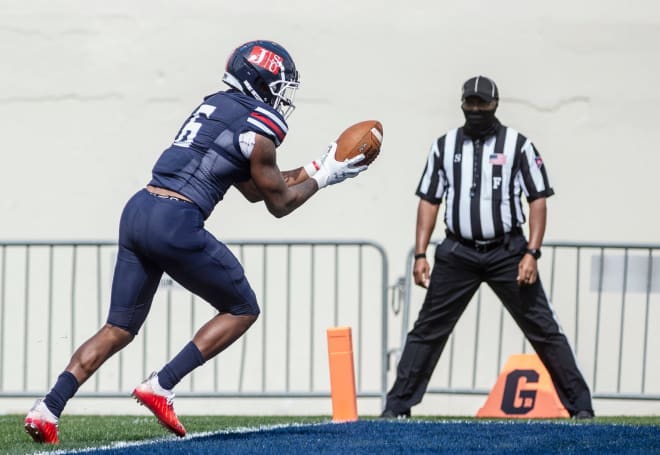 Baldwin began his collegiate career at Morgan State, before he transferred to Jackson State in 2019. He caught 16 passes for 181 receiving yards and one touchdown as a freshman in 2017, did not play in 2019 and racked up 14 receptions for 152 yards and one score as a sophomore in 2019.
Baldwin was the Southwestern Athletic Conference's leading receiver during the 2021 spring season, with 540 yards and seven touchdowns on 27 catches in just six contests playing for head coach Deion Sanders and Co. At 6-foot-3 and 210 pounds, he flashed his speed and became a downfield threat, racking up over 130 receiving yards in two different games and scoring a touchdown in every tilt except one.
He earned first-team All-SWAC honors and was named the league's Newcomer of the Year.

Baldwin entered the transfer portal last week, and is quickly becoming a hot commodity. He was offered by Ohio State Thursday ahead of picking up his offer from Michigan.
Michigan has just seven scholarship wide receivers on its roster, and only five have seen game action — it's important to note that freshmen A.J. Henning and Roman Wilson did see the field last fall, but the season was shortened to six games.
The Wolverines have just three wide receivers who stand taller than 6-foot, with sophomore Cornelius Johnson, at 6-foot-3, being the only one who has played in a game
Keep it locked at TheWolverine.com for more on this development in the hours and days to come.