Michigan Football Preview Excerpt: Aidan Hutchinson Has No Time To Waste
The following is an exclusive excerpt from our 160-page Michigan Football Preview magazine, the must-have preseason read for every Wolverine fan!
For a limited time, you can still take advantage of our best offer. Rivals subscribers can buy a copy for $8.95 with free shipping — a savings of $10 — or non-members can order for the full cover price with free shipping. CLICK HERE TO GET YOUR ISSUE NOW!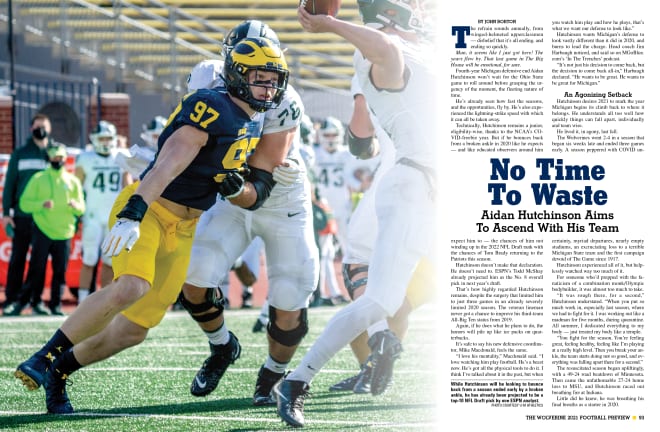 The refrain sounds annually, from winged-helmeted upperclassmen — disbelief that it's all ending, and ending so quickly.
Man, it seems like I just got here! The years flew by. That last game in The Big House will be emotional, for sure.
Fourth-year Michigan defensive end Aidan Hutchinson won't wait for the Ohio State game to roll around before grasping the urgency of the moment, the fleeting nature of time.
He's already seen how fast the seasons, and the opportunities, fly by. He's also experienced the lightning-strike speed with which it can all be taken away.
Technically, Hutchinson remains a junior, eligibility-wise, thanks to the NCAA's COVID-freebie year. But if he bounces back from a broken ankle in 2020 like he expects — and like educated observers around him expect him to — the chances of him not winding up in the 2022 NFL Draft rank with the chances of Tom Brady returning to the Patriots this season.
Hutchinson doesn't make that declaration. He doesn't need to. ESPN's Todd McShay already projected him as the No. 8 overall pick in next year's draft.
That's how highly regarded Hutchinson remains, despite the surgery that limited him to just three games in an already severely limited 2020 season. The veteran lineman never got a chance to improve his third-team All-Big Ten status from 2019.
Again, if he does what he plans to do, the honors will pile up like ice packs on quarterbacks.
It's safe to say his new defensive coordinator, Mike Macdonald, feels the same.
"I love his mentality," Macdonald said. "I love watching him play football. He's a beast now. He's got all the physical tools to do it. I think I've talked about it in the past, but when you watch him play and how he plays, that's what we want our defense to look like."
Hutchinson wants Michigan's defense to look vastly different than it did in 2020, and burns to lead the charge. Head coach Jim Harbaugh noticed, and said so on MGoBlue.com's 'In The Trenches' podcast.
"It's not just his decision to come back, but the decision to come back all-in," Harbaugh declared. "He wants to be great. He wants to be great for Michigan."
An Agonizing Setback
Hutchinson desires 2021 to mark the year Michigan begins its climb back to where it belongs. He understands all too well how quickly things can fall apart, individually and team wise.
He lived it, in agony, last fall.
The Wolverines went 2-4 in a season that began six weeks late and ended three games early. A season peppered with COVID uncertainty, myriad departures, nearly empty stadiums, an excruciating loss to a terrible Michigan State team and the first campaign devoid of The Game since 1917.
Hutchinson experienced all of it, but helplessly watched way too much of it.
For someone who'd prepped with the fanaticism of a combination monk/Olympic bodybuilder, it was almost too much to take.
"It was rough there, for a second," Hutchinson understated. "When you put so much work in, especially last season, where we had to fight for it. I was working out like a madman for five months, during quarantine. All summer, I dedicated everything to my body — just treated my body like a temple.
"You fight for the season. You're feeling great, feeling healthy, feeling like I'm playing at a really high level. Then you break your ankle, the team starts doing not so good, and everything was falling apart there for a second."
The resuscitated season began upliftingly, with a 49-24 road beatdown of Minnesota. Then came the unfathomable 27-24 home loss to MSU, and Hutchinson raced out breathing fire at Indiana.
Little did he know, he was breathing his final breaths as a starter in 2020.
This Year's Michigan Football Preview Magazine includes: 
• Exclusive features and interviews with new assistant coaches Mike Hart and Ron Bellamy, two alums who returned to Ann Arbor this offseason.
• Features on top players, including quarterback Cade McNamara, running back Hassan Haskins, offensive lineman Zak Zinter, defensive end Aidan Hutchinson and safety Daxton Hill.
• A look back, 50 years later, at the legendary 1971 team that featured All-Americans Mike Taylor, Reggie McKenzie, Billy Taylor and Thom Darden.
• In-depth position previews, a breakdown of what to expect this fall, national college football experts on the Wolverines, an update of former players in the NFL and much more!