Michigan Football at Nebraska: First Half Recap, Box Score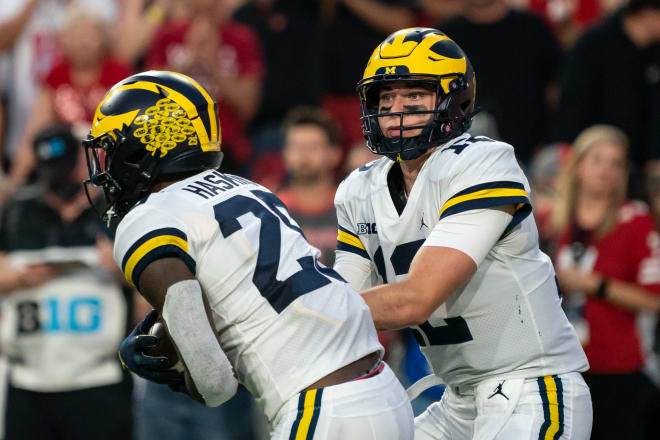 First Quarter
The Cornhuskers won the opening coin toss and elected to defer, putting the Michigan offense on the field to start the game.
The Wolverines would go three and out on their first drive, while Nebraska used a few big plays to get all the way down to the Michigan 4-yard line. Huskers head coach Scott Frost elected to keep his offense on the field on 4th and 2, but Michigan defense was able to keep them short of the sticks to take over on downs.
Nebraska outgained Michigan 98-60 in the first quarter, but the Wolverines and Huskers would trade punts as the quarter ended in a 0-0. Quarterback Cade McNamara struggled to start the game, going 4-for-9 for 45 yards. Michigan rushed for 15 yards on seven attempts in the opening 15 minutes.
Second Quarter
Michigan was able to limit Nebraska to 10 yards on the ensuing drive, which was capped off by a highlight-reel interception from junior defensive back Daxton Hill. That gave the Wolverines the ball on the Huskers' 35-yard line. They would have to settle for a 35-yard field goal from senior Jake Moody, which opened the scoring and gave the Wolverines a 3-0 lead with 9:52 to play in the second quarter.
After forcing another Nebraska punt, Michigan put together an 11-play, 90-yard drive that ended in a 21-yard field goal from Moody. The scoring drive was headlined by a pair of reviews from the officiating crew. The first was a third-and-1 run where Hassan Haskins picked up the first down but was marked two yards short. It went the Wolverines' way and followed it up with a 48-yard pass to junior wideout Mike Sainristil. Haskins had a touchdown overturned at the one-foot line after McNamara's knee was ruled down on the handoff, which resulted in settling for the field goal. Michigan would lead 6-0 with 3:19 to play in the quarter.
The Wolverines forced another Nebraska punt before the end of the half and closed out the half on an 11-play, 76-yard drive capped off by a Haskins three-yard touchdown run. Michigan went into the locker room up 13-0 over the Cornhuskers.