Wake Forest Transfer Chaundee Brown Picks U-M
Michigan head coach Juwan Howard has landed another pledge, and they're hoping he's eligible in 2021. Wake Forest transfer Chaundee Brown, a 6-5 wing, has announced his intentions to play at U-M.
Brown will apply for a waiver to try to play immediately after Demon Deacons head coach Danny Manning was fired. The entire Michigan staff played a role in recruiting him, something that helped the Wolverines overcome Iowa State, Illinois, Gonzaga and LSU, his finalists as of late April.
RELATED: How Jett Howard To IMG Can Help Michigan
RELATED: Michigan Basketball 2022 Target Jett Howard Has Elite Potential
"It was really important. They came in late, but at the same time they just felt like they really needed me," Brown said. "They made me feel like family already, and that meant a lot for me."
The coaches told him they needed a player who could play multiple positions, and Brown fits the bill.
"I can play the two, the three and even a little bit of the four if they need me to," he said. "I'm just going to be playing my game, getting downhill, getting to the rim in transition and getting to the lane ... getting fouled and getting to the line and trying to be an overall team player."
More than anything he said, he wants a taste of success before he leaves college. Wake Forest has struggled in his three years at the school.
"I just want to do all I can to help them win," he said. "Winning is what is most important to me in all of this."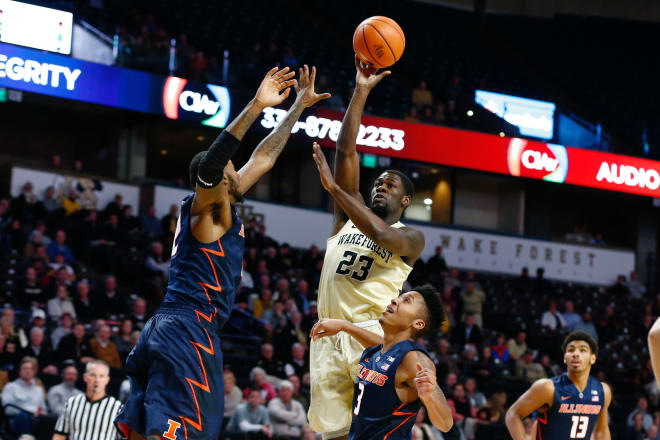 Rivals.com's Corey Evans provided the following when Brown announced his transfer:
If the one-time transfer rule is not passed, Brown will attempt to gain the appropriate waiver that would allow for him to see the floor beginning in the fall. He leaves Wake Forest with the hopes of finding a fresh start that can offer the chance to be a senior leader and also make a run in the NCAA Tournament.
Respected for his toughness and versatility in the backcourt, Brown averaged 12.1 points, 6.5 rebounds, and 1.4 assists, while making close to 84-percent of his shots from the foul line this past season. Two of his best games came against Duke and Xavier, scoring 26 and 24 points, respectively, which was the catalyst for each upset win.
BIO from Wake Forest Official Site
OF NOTE• Increased his scoring from 7.6 ppg as a freshman to 11.9 ppg as a sophomore to 12.1 ppg as a junior• Has five career double-doubles and 13 career 20-point games • Has participated in USA Basketball youth national team training camps
2019-20 SEASON (JUNIOR)• Appeared in 23 games, making 15 starts (missed eight games due to injury)• Averaged 12.1 points and 6.5 rebounds per game• Had five 20-point games and three double-doubles• ACC Player of the Week (Dec. 16)• Scored a career-high 26 points (11-16 FG) vs. No. 23 Xavier (Dec. 14)• Had 25 points and 10 rebounds vs. NC A&T (Dec. 21)• Had 23 points (6-8 FG, 11-11 FT) and 11 rebounds vs. UNC Asheville (Nov. 13) • Had 24 points (8-12 FG, 7-8 FT) and nine rebounds vs. No. 7 Duke (Feb. 25)• Fifth career double-double (15 points & 10 rebounds) vs. Notre Dame (Feb. 29)
2018-19 SEASON (SOPHOMORE)• Appeared in all 31 games, making 30 starts• Averaged 11.9 points and 5.0 rebounds per game• All four 20-point games came against ACC competition, three of them on the road• Scored in double figures in 20 games• Had 21 points and 10 rebounds at No. 4 Duke (Mar. 5)• Had 21 points and a career-high 14 rebounds for his first career double-double vs. Miami (Feb. 26)• Scored 20 points at No. 17 Florida State (Feb. 13)• Had 18 points (including 8 in overtime), four rebounds and four assists vs. Pitt (Feb. 5)• Scored a career-high 22 points at Miami (Jan. 12)

2017-18 SEASON (FRESHMAN)· Appeared in 30 games, including 29 starts· Averaged 7.6 points and 3.0 rebounds per game· Had four 20-point games, including three against ACC opponents· Had nine double-figure scoring games· Scored a season-high 21 points vs. Georgia Southern in his collegiate debut (Nov. 10)· Had 20-point games at Boston College, at Louisville and at Miami· Tied Wake Forest freshman record for 3-point percentage by going 6-of-7 (.857) at Boston College (Jan. 6)
HIGH SCHOOL· 2016-17 Gatorade and 4A Florida Player of the Year at The First Academy in Orlando· Averaged 24.7 points and 6.7 rebounds as a senior· McDonald's All-America Game nominee· Consensus four-star recruit who was in the top 40 of the Class of 2017 by ESPN (31), 247Sports (33), Rivals (35) and Scout (38)· Consensus top-10 shooting guard in the Class of 2017· Participated in the Iverson Classic and Capital Classic· Played AAU ball for Nike South Beach
PERSONAL· Full name is Chaundee Dwaine Brown· Born on Dec. 4, 1998· Son of Chaundee and Chelsea Brown· Has a younger brother, Chenar