Wolverine Watch: A Few Words Can Say Plenty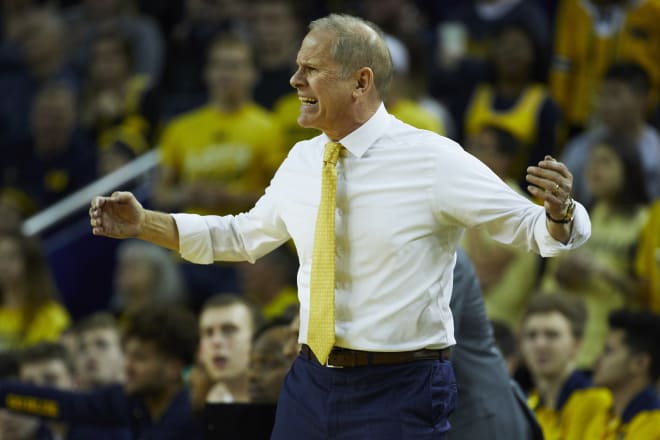 The next time John Beilein sets foot on a basketball court, both sets of players will be getting paid.
What a novel idea.
When the final buzzer sounds, he won't be hopping on a plane to plunk down on hard bleachers in a high school gym, scrutinizing every move of the latest prep stud not on the take.
He won't be drawing up contingency plans for 60 percent of his starting lineup heading out the door.
He'll just prep for the next game, at the highest level of basketball in the world. That has him smiling today. It might not always, but the NBA isn't a bad reach, for Beilein's final coaching move.
Back in Ann Arbor, more than a few folks remain curled up in the fetal position, softly sobbing, "Why? Why? WHY?" over the loss of the best basketball coach they've ever witnessed at Crisler Center.
Listen closely enough, and he'll tell you.
Beilein won 278 games at U-M over a dozen years, largely without complaint. He stood as an incredible ambassador not only for the University of Michigan, but for college basketball itself.
No shortcuts. No cheating. No throwing players under the bus, or excuse-making after losses. No finger-pointing, even when losing his best shot at a national title to a team stripped of the championship by the NCAA shortly thereafter.
Beilein takes great care in what he says, but if you listen carefully enough, it's all in there. He did it again, when relaying what Boston Celtics coach Brad Stevens told him in welcoming him to the NBA.
"Brad Stevens told me, 'The NBA just got better today,'" Beilein said. "Just really complimentary things from guys that have been in college and the pros. They said I'm going to love it; love just coaching basketball."
Love just coaching basketball. That's what he wants to do. That's why he's gone.
Clearly, the recruiting game wore on him. Racing off to Germany and across the United States to plug holes by freshmen and sophomores bolting from his roster got to him.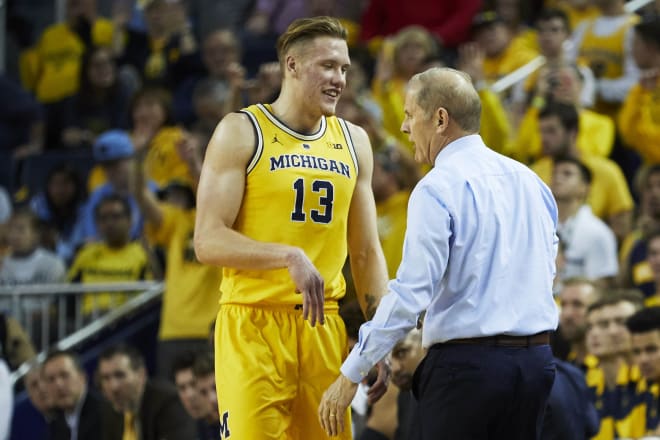 At Michigan, he advocated for a system similar to that for football, where a committed player has to stay three years. But he never really expected it to happen.
Instead, he did the best he could to patch the holes, getting punished for a high level of player development.
On the night of his last basketball banquet as Michigan's head coach, he made another telling statement.
"It's a sad state of things when you say, oh, I hope he's not too good as a freshman," Beilein said. "Just think about that. You think Jim Harbaugh is ever going to say that? Hockey's got the same issue. Baseball [and football], they have to stay at least three years. There are some things we've got to try to fix. But then again, it's a free world, and I think the sentiment is, kids should be able to go out and have these opportunities."
In the end, he decided he should, too.
Of course, the other reality of college basketball couldn't have helped. The rich get richer, the dirty get dirtier, and the powers that be are raking in too much cash to genuinely clamp down.
Beilein played it straight, always. It says here that placed him in the significant minority. It also says here no matter how much the feds dig up on college basketball corruption, the system isn't changing any time soon.
"There are some really high-profile, prominent programs in college basketball right now that have head coaches on the job that wiretaps are overheard incriminating their program," noted basketball analyst and former Wolverine Tim McCormick. "That cannot sit well with John Beilein. "I certainly think that came into play in his mind. The college landscape right now, there are questions about corruption. He does not stand for that."
He does not have to worry about it anymore.
Let's be clear. The NBA isn't a consolation prize. It's the biggest stage of all, even with a Cleveland Cavaliers team that won 11 fewer games than Michigan did last year, despite 45 more chances.
Back in Ann Arbor, this much is certain. It will be a whole lot easier for Athletics Director Warde Manuel to go out and sell a head coach on Michigan now than it was for Bill Martin to do it a dozen years ago.
Beilein accepted the challenge. Thank him, and wish him well.
Then dig in and put someone in place who isn't wearied by a level of the game worth worrying about.