U-M's NFL Draftees Sign Rookie Contracts, Begin Team Mini-Camps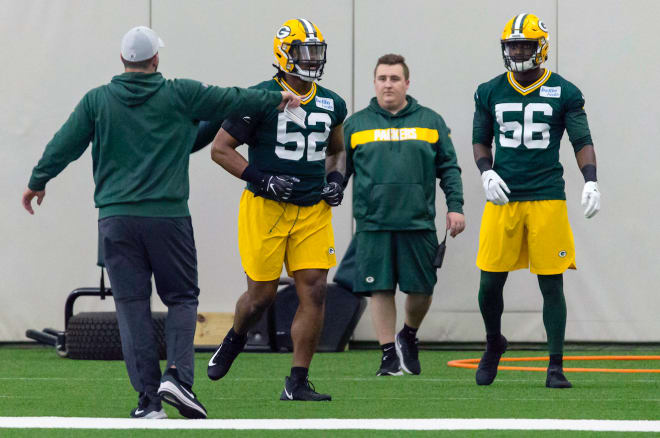 With NFL mini-camps now underway across the league, all of U-M's rookies have reportedly put pen to paper in regards to their rookie contracts.
Here is a closer look at the dollar amounts each of them signed for, including the undrafted Wolverines who have latched on with NFL clubs:
Devin Bush
With linebacker Devin Bush inking his deal with the Pittsburgh Steelers on May 13, all five of Michigan's drafted players have now reportedly signed.
NFL Network's Ian Rapoport reported the linebacker's deal was a four-year contract with an option for a fifth year, worth $18,871,768.
It will run through the 2022 (with the option for 2023) season, with the annual salaries consisting of $495,000 in 2019, $1,352,808 in 2020, $2,210,616 in 2021 and $3,068,424 in 2022.
In fact, according to the Pittsburgh Post-Gazette, it is the largest rookie contract the organization has ever handed out.
"It was fun getting back in football mode and learning the plays," Bush said on the first day of Pittsburgh's mini-camp.
"I have a lot to learn, including the language of the defense and how to get comfortable with the plays. I know the concepts though and what we're trying to run.
"I just got out there [on the first day] and was vocal, and just trusted what I saw. I want to get more familiar with the playbook and get more comfortable in my play calling abilities.
"I'd like to show I belong here in Pittsburgh and in the NFL, and how I'm going to play here for a long time."
The #Steelers just signed LB Devin Bush to his rookie deal, source said, a 4-year contract with a 5th year option. It's with a total of $18,871,768, fully guaranteed.

— Ian Rapoport (@RapSheet) May 12, 2019
Rashan Gary
Defensive end Rashan Gary inked a standard four-year rookie contract with the Green Bay Packers, with an option for a fifth year.
The contract's total value is worth $15,877,312, which equates out to $3,969,328 per year.
Gary's base salary in 2019 will be $495,000, $1,216,696 in 2020, $1,938,392 in 2021 and $2,660,088 in 2022.
The fact that the New Jersey native has started his own sports agency — Rashan Gary Sports — also means that he will not owe a certain percentage of his NFL earnings to an agent.
Rashan Gary's contract as the No. 12 overall pick is in. Here's the breakdown:

Total pay: $15,877,312 ($3,969,328 APY over 4 years) plus fifth-year club option.

Signing bonus: $9,567,136.

Base salaries: $495,000 (2019); $1,216,696 (2020); $1,938,392... https://t.co/K3WjNDt4N5

— Rob Demovsky (@RobDemovsky) May 3, 2019
Zach Gentry
Tight end Zach Gentry signed a four-year deal worth $2.8 million, including a $495,000 salary in 2019 and a $343,147 signing bonus.
As a result, his average annual salary will be $716,115.
"It's been nice," Gentry said on the first day of Pittsburgh's mini-camp.
"We just got the playbook and are in the acclimation period right now, and I'm trying to get my bearings and see where I fit in.
"All the rookies seem like they're in great shape out here, and I've felt great throughout mini-camp so far.
"D-Bush and I have actually been texting each other making sure we both know the schedule, and he's just a good dude to lean on."
David Long
Overthecap.com is reporting cornerback David Long's rookie deal with the Los Angeles Rams to be worth $3,505,248, with an annual contract value of $876,312.
No other outlets are confirming that he has officially signed with the organization, however.
Chase Winovich
Just like Long, overthecap.com is also reporting the final contract details of defensive end Chase Winovich's rookie deal with New England, though no one else is.
The total value of his rookie pact is $3,523,220 (slightly larger than Long's), with an annual value of $880,805.
Undrafted Free Agent Deals
Eight of Michigan's undrafted free agents have also signed three-year minimum base salaries with various NFL clubs, deals that are all worth just over $1.7 million.
• TE Ian Bunting — Chicago Bears
• OT Juwann Bushell-Beatty — Washington Redskins
• RB Karan Higdon — Houston Texans
• S Tyree Kinnel — Cincinnati Bengals
• DT Lawrence Marshall — Chicago Bears
• DT Bryan Mone — Seattle Seahawks
• QB Wilton Speight — San Francisco 49ers
• CB Brandon Watson — Jacksonville Jaguars