Michigan Wolverines Football: USC Portal DT Jay Toia Visiting U-M This Week
As first reported last week, massive defensive tackle Jay Toia has entered the transfer portal from USC. Michigan assistant Shuan Nua has always had a great relationship with him, and now he'll have the chance to close the deal on the 6-3, 320-pounder.
Toia is planning a visit to U-M this weekend. The Wolverines were high on his list, but he wasn't able to visit due to COVID.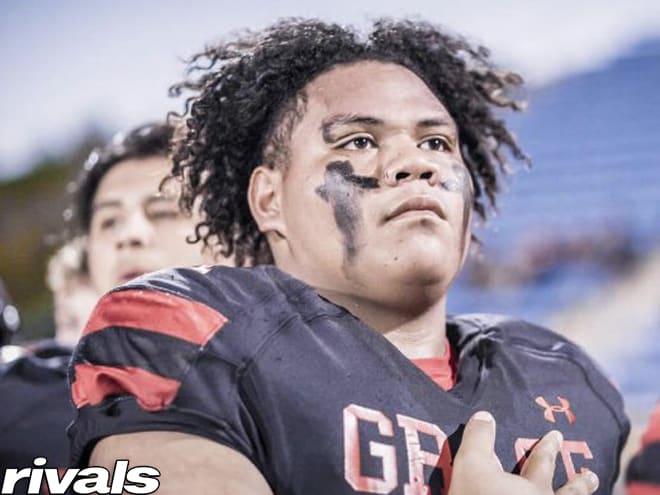 "I just feel his energy," Toia said of Nua last year. "It's not fake. Every time he's in the room, I can just feel what he says.
"Another thing is that he is Polynesian. You know, Polynesian people connect. Coach Nua always stays in contact. I love him."
And that's one of the big reasons why the Wolverines have a great shot here. Toia is exactly what they need on the interior of their defensive line, and he's a monster. It's unclear why he's leaving USC, which really needs him on the interior, especially after he enrolled early and made an impact this spring.
"Now, having watched him practice, I love his competitiveness," head coach Clay Helton told USC beat writers last month. "I love his coachability and the plays that he's making on the field. You're talking about a 330-pound man who you have to double-team. If you single him, it's a hard day."
He made it clear last year in March just how much he thought of Jim Harbaugh and his program, noting it was an "honor" to talk to the coach.
The former four-star committed to the Trojans when he was young.
"My cousin (Stanley Taufoou) had just committed there, and he was living with me. I grew up in L.A., so it was home for me," he said. "I thought it was going to be my biggest offer.
"I love Michigan," Toia said last year. "I grew up a USC fan, but Michigan was always on every headline. Everything that had to do with football had Michigan in it. Their fan base is crazy. I love their coaches. They just always talk to me."
They'll get a chance to talk more and potentially close the deal this weekend.