COLUMN: Give This U-M Defender 'Most Improved,' Other Midseason Awards
Michigan's defense has had a couple bad halves and will face bigger tests (after this week's game with Northwestern), but the Wolverines are still No. 9 nationally in scoring defense under new coordinator Mike Macdonald. One defender in particular is stating his case for the team's 'most improved player' since the beginning of the year, having been dominant in a few games.
SECOND LOOK: Michigan at Nebraska Film Analysis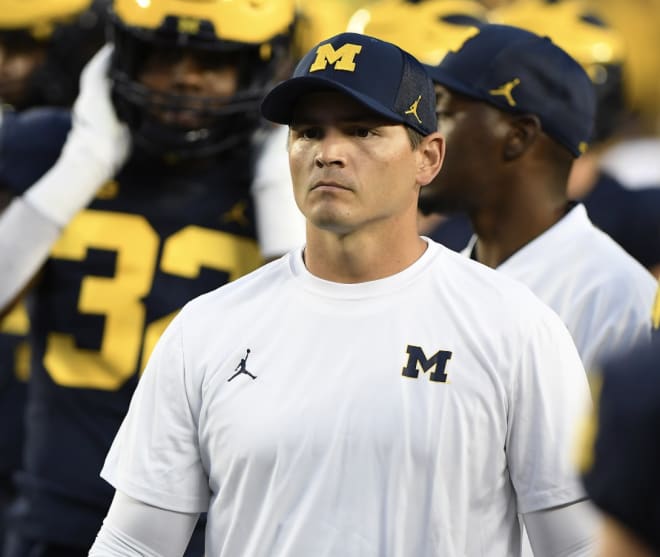 Redshirt freshman defensive end David Ojabo is starting to 'get it' when it comes to his assignments. He's always been somewhat adept at rushing the passer, and he made a big play earlier in the year in stripping Rutgers quarterback Noah Vedral of the ball to secure a 20-14 win. Lately, though, he's taken his play to another level.
Ojabo earned Big Ten co-defensive player of the week honors after his seven-tackle, 2.5-sack game at Wisconsin, a 38-17 Michigan win in which he also forced a fumble. He notched a sack for two yards for his only tackle at Nebraska, but he was all over the field and blew up a third-down screen pass on a play he might not have made earlier in the year.
Officially, he's been credited with 16 tackles and 4.5 sacks this year. That doesn't begin to explain his impact.
"He's just a freak athlete," offensive guard Zak Zinter said a few weeks ago. "The speed, the athleticism he brings ... he's got the power. He kind of brings it all to the table. As offensive linemen, we really don't know what to expect when we set back against him."

"He's very much an ascending player in terms of an outside 'backer that can rush the passer, put pressure on the passer and make the ball come out quicker, and also create turnovers," head coach Jim Harbaugh added. "He's starting to have a real knack for coming up with that.
"He's, before our eyes, really evolving into that prototypical edge pass rusher that makes the ball come out quick, moves the quarterback off his spot, creates turnovers ... also makes tackles, holds the point, drops into coverage. He's doing very well."
And he's our most improved player on defense for the first half of the season.
Ojabo has been in junior end Aidan Hutchinson's hip pocket while learning the position (and, really, the game, having played for only a few years). He's finally starting to feel comfortable in Macdonald's new defense.
"It's just a whole build-up of confidence from the coaches to all the work I've put in," Ojabo said. "Just getting comfortable in my own body and the whole new system.
"… Every day is a learning day. I had to pick things up quick to be in the position I'm in right now. Every day I'm still learning. I learned the terms, even just the basic rules of football. I feel like I've come a long way."
To the point that some believe he's on track to have a Josh Uche-type effect next season.
More Michigan Football Midseason Awards
MVP, Offense: Running back Hassan Haskins — He's been a chain-mover, and his pass pro has been outstanding. He's been an absolute stud.
Most Improved, Offense: Center Andrew Vastardis — He's been one of the team's most pleasant surprises after many thought he could be a weak link on the line this year.
Unsung Hero, Offense: Right tackle Andrew Stueber — This guy has been a road grader in the run game and everything you're looking for as a leader on the line at right tackle.
MVP, Defense: Defensive end Aidan Hutchinson and safety Dax Hill — We could throw linebacker Josh Ross in here, too, really. All three have been playing at an All-Big Ten (or better) level.
Unsung Hero, Defense: Safety Brad Hawkins — He's been more than solid, the quarterback of the defensive backfield who has made huge plays the last few weeks. He'd be vying for MVP honors, too, if he'd hauled in a few potential picks that hit him in the hands.
MVP, Special Teams: Kicker Jake Moody — We thought he had it in him to have a big year, and h'e's off to a great start. He's made several long kicks and missed only one all year.
Best Position Group, Offense: Running backs & Offensive Line — Yeah, it's a cop out, but these two groups go hand in hand. Haskins and Blake Corum have been a great 1-2 punch, and the line has been outstanding despite a number of injuries up front. It's as deep as the coaches and players told us it was, led by Stueber, Vastardis and freshman guard Zak Zinter.
Best Position Group, Defense: Defensive Line & Safeties — Yup, we said it. We'll lump Ojabo and Hutchinson in here as ends, but Chris Hinton and Mazi Smith have been fantastic inside and Mike Morris has been very good, too. Kris Jenkins has also made plays.
Hill and Hawkins, meanwhile, are the best safety tandem in the conference.